Super Eagles drop 2 places to 46th position in latest FIFA Ranking
The Super Eagles of Nigeria dropped two places from 44th to 46th position in the latest FIFA Ranking revealed on Thursday, February 7.
The Super Eagles have not been in action since the 2019 Africa Cup of Nations (AFCON) against the Bafana Bafana of South Africa and international friendly encounter against the Cranes of Uganda.
Both games were played in November but the outcome of both encounters have no immediate impact on the recent rankings released according to the breakdown.
The Super Eagles were in 44th position in the last FIFA Ranking released on Thursday, December 20 but fell two places in February.
African rankings
The Super Eagles fell from 44th to 46th on the world stage but maintained their position in the continental rankings.
Gernot Rohr's team are still fourth in Africa, behind Senegal who are 24th and dropped one spot, Tunisia who dropped two spots are 28th and Morocco who dropped three spots to 43th.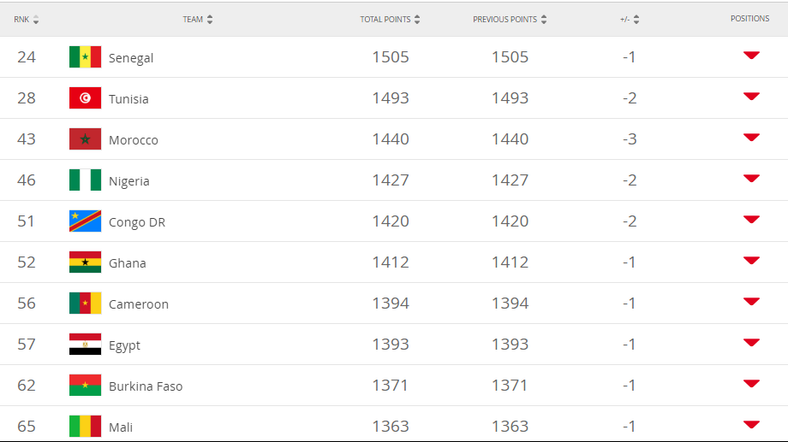 The Super Eagles are fourth in the 2019 February Africa FIFA Rankings
World Rankings
On the international stage the top ten teams remained unmoved with the same position and points as the same rankings.
The top ten are Belgium, France, Brazil, Croatia, England, Portugal, Uruguay, Switzerland, Spain and Denmark.
The Super Eagles will have a chance to improve on their rankings in March when they take on Seychelles in their final 2019 AFCON qualifier and an international friendly against the Pharaoh's of Egypt.
FIFA Ban: I've done nothing wrong – Siasia
Former Super Eagles coach Samson Siasia has expressed shock over his ban by FIFA and accused the world soccer ruling body of dishing out punishment without contacting him.
The former U-23 coach, in a swift reaction on social media following news of his ban, vowed to fight to clear his name.
He wondered how a person can be charged and found guilty of an allegation without being heard from.
He also dismissed claims by FIFA that a letter to that effect has been dispatched to him while re-echoing that he has not done anything wrong.
"I am shocked with FIFA ban, I was never questioned by FIFA.
"I don't know anything about this. I did nothing wrong and I have not received any letter from FIFA," he said.
Siasia, who led Nigeria's Olympic team to Silver Medal finish in 2016, insisted he was hearing about the allegation and the said decision for the first time.
There are strong indications that the former Super Eagles star who scored 16 goals in 51 appearances for the national team will appeal the decision.
Some say the 52 -year- old former Lokeren of Belgium striker may drag FIFA to Court of Arbitration for Sports (CAS).
The court has recently been inundated by cases involving fIFA and other stakeholders including Presidents of Football federations.
FIFA bans Siasia for life over bribe, match manipulation
Samson Siasia has been banned for life by FIFA after being found guilty over bribery and manipulation of matches.
The former Super Eagles of Nigeria coach has been banned from all football-related activities over attempts to rig matches at international level.
The world football's governing body said it opened disciplinary proceedings after a vast investigation into various international matches that Singaporean Wilson Raj Perumal, a convicted match-fixer, had attempted to manipulate for betting purposes.
"The adjudicatory chamber of the independent Ethics Committee has found Mr. Samson Siasia, a former official of the Nigeria Football Federation, guilty of having accepted that he would receive bribes in relation to the manipulation of matches in violation of the FIFA Code of Ethics," FIFA statement said.
"The formal ethics proceedings against Mr. Siasia were initiated on 11 February 2019 and stem from an extensive investigation into matches that Mr. Wilson Raj Perumal attempted to manipulate for betting purposes.
"This large-scale investigation was conducted by FIFA via its competent departments and in cooperation with the relevant stakeholders and authorities.
"In its decision, the adjudicatory chamber found that Mr. Siasia had breached art. 11 (Bribery) of the 2009 edition of the FIFA Code of Ethics and banned him for life from all football-related activities (administrative, sports or any other) at both national and international level.
"In addition, a fine in the amount of CHF 50,000 has been imposed on Mr. Siasia. The decision was notified to Mr. Siasia today, the date on which the ban comes into force."
Lionel Messi given three-month ban and £41k fine over his claims Copa America was 'corrupt' and 'set up for Brazil to win'
Lionel Messi has been given three-month suspension and £41,000 fine following his controversial comments about Copa America tournament.
The Barcelona superstar and Argentine striker accused the South American governing body CONMEBOL of being 'corrupt' just after Argentina won their third-place play-off against Chile.
He was shown a straight red card against Chile for clashing with Gary Medel on the pitch of play last month. The 32-year-old also refused to be on the pitch for the medal ceremony.
When asked why he didn't show up, Messi told reporters: 'There is no doubt, the whole thing is set up for Brazil.
'I did not want to be part of this corruption, we shouldn't have to be part of this disrespect we suffered during the Copa America.

We could have gone further but we weren't allowed into the final. Corruption, referees and all the rest stopped people from enjoying the football.

'I always tell the truth and I'm honest, that is what keeps me calm if what I say has repercussions that is not my business.'
CONMEBOL hit back at him with an official statement describing his comments as 'unacceptable.'
They initially hit him with a one-match ban but have now added more severe punishment.
The five-time Ballon d'Or winner has been given a fine of £41,000 and three-month suspension that will restrict him from playing for Argentina again this year.