Ministerial Nominee: Godwin Jedy; A Seasoned technocrat with the midas touch
One of Nigeria's very experienced energy administrators, Mr. Godwin Jedy-Aba, is a minister-nominee of President Muhammadu Buhari. And there is, understandably, song and dance in the quarters of those who know the capacity and experience of the nominee in the oil and gas sector. But for those who crave the enthronement of mediocrity to aid and abet the culture of incompetence or the regime of laissez faire in the management of the petroleum sector, the prospects of Jedy-Agba emerging as Buhari's choice for the critical sector cannot resonate well with them.Regardless of the prognosis of possibilities or otherwise, Jedy-Agba is one of the few "technocrats" in a list that has been largely dubbed "political" by critics.
Notwithstanding his previous temperate, restrained and strategic foray into partisan politics, his accomplishments and exploits as an astute administrator have not diminished a bit. His administrative savoir faire and legerdemain had been writ-large in his public service trajectory from which he retired at the NNPC.While the likely portfolio that would be assigned to the Prince of Obudu from Cross River state is not the subject of this piece of writing, it is, however, not in doubt that Buhari has made up his mind about using the few "technocrats"-like Abubakar Malami (SAN), Sunday Dare (journalist) Osagie Ehinare (consultant physician) et al, in his list to man some specialized ministries to demand value for knowledge and experience, and, if this is the intendment, then one does not need a crystal ball to guess where Jedy-Agba, a former Group General Manager (GGM), Crude Oil Marketing Division (OMD) of the Nigerian National Petroleum Corporation (NNPC) will likely be assigned: perhaps, not far away from the petroleum ministry.
While it is unlikely the President will hands off his direct control of the Petroleum Ministry, as the substantive Minister-in-charge, he will need a brilliant and effective minister of state who can be saddled with all the basic responsibilities of the ministry without caving in.If the politics of administration is played with humility and wisdom, a minister of state can enjoy the privilege of full control with the confidence of the President to boot. Nothing suggests to the contrary that Jedy-Agba cannot be trusted to deliver on a presidential mandate with tact and precision. That will be in spite of the salacious narratives by detractors and traducers who are on a voyage of upending a luminous epoch that beckons. With President Buhari's commitment to consolidating on the achievements of his first four years in the saddle, attention is focused on experience.
The president appears unprepared to gamble with "untested hands". He is greatly seeking to make a better impression in his second term of office. To do this, he cannot afford to put square pegs in round holes. Buhari cannot afford to deploy a learner who cannot take the pressure off him in the administration of the critical petroleum sector.Besides, time is of the essence. While the nation is waiting to see the ministers hit the ground running, critics are also waiting to feast on the administration's mistakes.
Viewed from any angle, Jedy-Agba is a good pick who could help the administration to weather the storm in the entire oil industry. That is why the malicious media campaign against him has been thick. His traducers know that he cannot be stopped when he gets cracking in delivering on any mandate.Sadly, we are in a season where traducers who masquerade as critics, are wont to sacrifice everything – knowledge, capacity and accomplishments – at the altar of contrived criticisms in the guise of seeking the promotion of perfection in the land of sinners. This is not unexpected.
However, the ninth Senate is urged not to entertain needless distractions in the screening and confirmation hearing of Jedy-Agba. But of course, while the law must take its course where and when it is activated to do so, a phony media campaign to smear someone who has never been questioned or prosecuted by any anti-graft commission, must never be dignified as something worth scrutinizing or countenancing. President Buhari was an appointee of the late General Sani Abacha.
Hundreds of millions of dollars that were taken out of Nigeria during that regime have been recovered from the late dictator and his family; but, this cannot, in anyway, qualify or translate as an indictment, simply because Buhari served under Abacha.
Unfortunately, the merchant of the smear campaign against Jedy-Agba cannot grapple with the fact that he was a top official of the NNPC, who could not escape working with a Minister of Petroleum. It is therefore disingenuous and wicked to think that everyone who has anything to do with Deziani Alison-Madueke, in the line of duty, is guilty as opined in the media. This is distasteful and uncharitable.
This concern is not just about Jedy-Agba alone but it is also inclusive of everyone who had previously worked with Diezani Alison-Madueke.Interestingly, in all the corruption cases filed by the Economic and Financial Crimes Commission (EFCC) involving Mrs. Diezani Alison-Madueke, there is not one in which Jedy-Agba has been listed as a party, whether separately or jointly with her. This is a matter of judicial records for anyone to verify.
In addition, the sponsors of this narrative about his involvement in large scale corruption under Diezani Alison-Madueke should also have known that the security agencies must have subjected the nomination of Jedy-Agba to due diligence checks before the final pick.
This nomination, for Jedy-Agba, is a spring board for bouncing back to a familiar terrain of service, having worked for several ministers as a Personal Assistant and in different other capacities between 1985 and 1995. He is perhaps one of the most versatile nominees with requisite administrative experience, who once worked at ministerial level. For decades, he had acquitted himself creditably and meritoriously without scandals. He is indeed a great addition to the Buhari's team. It is going to be difficult to cut shady deals on his watch behind the government, whether or not he is sent to the petroleum sector.
It is therefore not impossible that the people behind the smear campaign against Jedy-Agba are among the notorious oil mafia and cartel whose deep backend activities and shady deals are threatened by this strategic nomination. Jedy-Agba knows the oil industry like the palm of his hand, and his likely headship of the sector or as a minister of state to Buhari is bound to ruffle feathers and put an end to some underhand dealings. The level of opaqueness in the management of public finance in the oil industry in Nigeria has continued to be worrisome.
This could thus be another tough call for an administration that has committed itself to fighting corruption.It could be recalled that Jedy-Agba's onerous tasks as Group General Manager, Crude Oil Marketing Division, NNPC had put him in a good stead to manage a complex terrain.
He was responsible for liaising with Crude Pricing & Technical Evaluation Section on Price movement and other input data for market reports. He also monitored and analyzed consumption of other energy types, terms of cost availability and relative impact on world petroleum supply/demand balance. Jedy-Agba was simply vast and deep; and was capacitated enough to handle his huge responsibilities.
The campaign of calumny will not be over even after the senate screening and confirmation hearing. To be sure, those behind the sponsored malicious media reports are likely to shift their attack to the specific – calling on the president, not to appoint him as a Minister of State for Petroleum, while playing up their unsubstantiated allegations. Regardless of the shenanigans, Jedy-Agba remains a wonderful pick.
Mr Bigg's Remodels Restaurant, Raises Ante In Customers' Lifestyle Experience
Mr Bigg's, the Quick Service Restaurants (QSR) arm of UACN of Nigeria, being run by its subsidiary, UAC Restaurants Limited has begun the remodeling its restaurants in a new initiative aimed at positively redefining the lifestyle of its numerous customers
The new business initiative centered on a remodeled restaurant structure is principally aimed at sustaining the heritage and leadership of the 33 years old outfit by raising customer service to a new level.
The foremost indigenous and largest fast-growing QSR business in West Africa, with over 100 restaurants in Nigeria. On inception, the business operated a fully owned restaurant operations model before it transformed in partial franchise, and later into full franchise restaurant operations model.
The new initiative according to Mrs. Ethel Mba, Marketing Manager, UACN Restaurants, will remodel the restaurants into a scintillating center of high value having a 21st century ambience.
Speaking at the pioneer model Restaurant located at Northwest Filling Station by the Victoria Garden City, VGC, Lekki, Lagos, during a media tour of some restaurants on Wednesday, Mba added that the new approach promises to sustain excellence in wide variety of dishes, Patries and Confectionaries to the delight of its teeming consumers, which is the heritage of Mr Bigg's.
She explained that VGC outlet which was opened on the 9th of July, 2019 will remain the 'signature poster' for all the other restaurants in the new concept, aimed at bringing world class service and ambience to satisfy the taste of Nigerians in terms of meals.
The VGC restaurants boosts of cozy ambience, call center and kiddies corner backed up by excellent service delivery professionals to give customers un-parallel experience in a friendly and family setting. The conveniences, the eating area and the lobby are world-class, coupled with a play area for the kids.
Mba assured that apart from the VGC Center, two more restaurants will spring up at Amuwo Odofin in Festac town and Abule Egba along Lagos Abeokuta Express Way very soon.
"The new restaurants will be patterned after the structure of the Lekki restaurant to deliver high-quality food and good ambience as the basic standard. Aside this, the menu range will be equal and well-balanced in terms of meal choices depending on customers' tastes or new trends," she said.
Not a few customers agree that no restaurant can survive without offering quality food and service aimed at giving patrons a satisfying experience.
For example, Mrs. Bunmi Olanrewaju who came to the VGC restaurant with her kids asserts that a good family restaurant is the one that offers comfort food that reminds people of the favorite meals their mothers cooked when they were kids.
She recalled with excitement that products like the Mr Bigg's Meat Pie, Chicken Pie, and Scotch Eggs are legendary and still remains the best.
Other patrons averred that In terms of comfort, the new outlet is well cut out with space wide enough to avoid congestion and movement interruptions.
Mr Bigg's history began with the coffee shops inside Kingsway Department Stores in the 1960s. In 1973, these shops were rebranded as Kingsway Rendezvous, which became Mr Bigg's in 1986. The chain saw rapid expansion after becoming one of the first Nigerian companies to sell franchises to investors.
In 2012, UAC Restaurants adopted a full franchising business model making it the first to establish company owned restaurants in other to grow the brand footprint and equity
UAC Restaurants Ltd has since then owned and operated quick service restaurants with a range of products including her signature Meat pie, Chicken pie & Beef roll, Rice and Peppered Chicken, Ice cream, Pizza, and locals meals.
Awwal Garba AD: A Major Player in the Global Business Sector with Investments across Vast Terrains
"It is not in the pursuit of happiness that we find fulfillment, it is in the happiness of pursuit." Denis Waitley
Taking a cue from Waitley, it is safe to say since the soul is the power and core of who one is, fulfillment is therefore the feeling of being happy and satisfied with one's life because of interesting, useful, or important things embarked upon.
Alhaji Awwal Garba is a major player in the global oil and gas sector whose sense of fulfillment is succinctly summed up in the above analogy, as his life for a long time, has been dedicated to meaningful and oftentimes sacrificial commitments to his fatherland as well as to the lives of his countrymen.
With particular interest in Nigeria, Alhaji Garba has been discovering untapped resources within the oil sector upon which he has over the years, successfully built his chain of business interests, under the Magma Group, thereby immensely contributing to the economic growth and development of Nigeria.
With a humble mien, a virtue instilled by his upbringing, Alhaji Garba is a highly self-motivated person with an unbridled and a fervent desire to change the oil and gas sector narratives in ways that will benefit indigenous players and the Nigerian youths.
His words; "I was motivated into the sector by the desire to make a change, especially in the upstream sector of the industry where it is believed that only the oyibos (foreigners) hold sway therein.
"Of course, also in that direction would be the desire to contribute one's quota to the national economy, in terms of creating jobs, which of course would help in giving the youths a sense of worth and direction."
Early Years
Born into a family of affluence, Alhaji Garba may well be said to have grown up being fed with a silver spoon. His late father, a traditional title holder 'Talban Kano'; a king maker, was also an astute businessman, with wide spread interests in commodity trading, exports and imports. It may not be out of place to say that Alhaji Garba cut his entrepreneurial teeth under the tutelage of his father.
However, with strict and disciplined parents, adherence to what is right was the only rule, and this helped in shaping his character and personality, which he himself admits was the greatest gift he received as a child.
"I thought my parents were being hard on us as children, but I have come to appreciate all those moments later in life. It actually made us humble, yet strong. This was the best gift I received as a child because it helped in shaping my character."
The desire to discover himself spurred him to break away from the comfort and sureties that being under the umbrella of his father provided.
According to him, "I can say that I was born into privilege, but that did not stop me from finding my own niche. The most difficult thing was finding a balance by breaking away from my father's umbrella in order to find myself. I call it the period of soul searching. It took time to find what makes me tick, and since then, it has become a passion to reach out to greater heights. More importantly, I have worked hard to create and maintain it. And I am still working hard."
Education
Alhaji Garba had his early education in Kano, Nigeria and spent his early years in Nigeria and the United Kingdom. A Nigerian and British trained Economist of a rare kind, Alhaji Garba attended the Bayero University Kano, Nigeria and the City University, London, United Kingdom, tucking two degrees in his kitty from these institutions.
A Member of the Nigerian Institute of Management (NIM) and a Member of the Chartered Institute of Business Management UK, Alhaji Garba also acquired a Master's Degree in Business Economics in the UK. He has in practice been a major player in the oil and gas sector of the global business environment, with particular focus in Nigeria, since gaining his Master's degree.
Entrepreneurship Drive
Awwal Garba is a man with very strong instincts which, interfaced with his realities have enabled him make life-changing decisions. One of the difficulties he had was deciding whether to go into private or public service. Looking back at the years of successful business entrepreneurship, his instincts to go for the former paid off handsomely, although from hindsight, it is clear to see that should he have chosen the latter, he still would have been profoundly successful.
A global oil and gas business mogul, Garba is an entrepreneur with an innate ability to sniff out business opportunities where many cannot; a rare disposition which has enabled him to excel in countless ventures and investments, especially within the oil and gas sector.
Garba's major areas of focus cut across sectors like, Telecommunications, Power, Finance, Management Consulting, Marine, Oil and gas Exploration and Production (OEP), oil refinery and real estate development, among others. He is a consummate professional with strong interpersonal and effective communication skills, integrity, tenacity and strength of character.
Awwal Garba's core area of specialization in the oil and gas field is Exploration, with eight assets so far. He is building a 100 thousand barrel refinery in Akwa Ibom State at the moment, on a hundred hectare land, close to Exxon Mobil, while also negotiating with 3 marginal oilfields from oil mill 370 with Exxon Mobil.
"In the gas area of the sector, we have made proposals with respect to the Brass LNG, into which my partners and I are ready to commit $1bn. This would cut the issue of oil importation and also provide 300,000 jobs for skilled and unskilled workers in Akwa Ibom."
Alhaji Garba's companies include Magma Petroleum Investment Limited; Magma Exploration Production Limited, which is working on a JVU with Total Upstream, and also working with MPDC. His other companies include Magma Agro-Allied Limited; Magma Logistics Limited; Magma Gas and Power Spectrum Limited; Magma Pipe and Coating Limited, Rhone Petroleum Limited and H. Oil Limited, among others, all of which are aiding the economy of the country in terms of investment.
"We have Magma Exploration which is working on a JVU with Total Upstream, and also working with MPDC. We have Magma Gas and Power Spectrum working on acquiring the Brass LNG. It is a $1bn project, and already the funds are available.
"We have H-Oil Limited which has assets in Angola as well as South Sudan and Liberia, with offices in Paris and headquarters in Madrid, Spain. Magma Logistics works with the Department of Petroleum Resources. We also have Magma Petroleum Investment in the downstream sector with our downstream partners, having facility in Amsterdam and distributing finished products all over the world."
With this wide spectrum of business concerns, there are bound to be challenges. These however, are usually viewed by the astute businessman in the context of growth opportunities.
" The challenge of prospecting for and then drilling of oil is something we enjoy doing. On the exploration side especially, we want to expand and never get tired, that is why we are on the brink of acquiring more assets. We love the challenge. To get in there, prospect and drill the oil is something we just enjoy doing.
"Today, what kills the exploration business is greed. Many want to have everything and there's no way you could do that when it comes to exploration. We engage partners from all over the world and our logic is that 'half bread is better than none'. We can give out an asset with 5% interest, an asset with 2%, it does not matter. What matters is that when you multiply the 2% x 10, you get 20%. This is our logic."
Humble Mien
It is not really commonplace to find the virtue of humility in the lives of many of the affluent. The life of Awwal Garba is a marked exception because it is the way he was brought up. Whether it was his father or friends of his father, who included the MKO Abiola's, the Maitama's and the Babangida's, they all pointed to the importance of the virtue and instilled that in him. He also admits that life itself also taught him about humility.
"Life has taught me to be absolutely humble. Life has taught me to be analytical as well as critical with myself in my everyday dealings. My heart will never deceive me into thinking I am anything different or special. Ego is a recipe for failure in life.
"I mean all you have to do is to look around you. The seven-year-old selling sachet water or Moi-Moi on the streets of Lagos in the early morning rush hour could have been you. He, also given your opportunity, could perform as good or even better. There are always two sides of a coin."
Patriotic Fervor, Leadership and Game Changer
Alhaji Awwal Garba is a de-tribalised Nigerian who sees his country as his constituency. Through his investments, he has been building bridges.
A unique vehicle with which he is stoking the embers of patriotism is 'Game Changer', a media established to ensure that the Muhammadu Buhari administration continues to change the whole game; from Agriculture, Corruption to Healthcare and very importantly, to unite Nigerians and give them a sense of belonging.
He uses Ghana as a yardstick in buttressing the importance of patriotism. "You will be shocked to realise the level of their patriotism. A taxi driver always has the Ghanaian flag in his cab as with every household, like it was in America perhaps before the Trump era when American schools taught American history, the need to be patriotic and love for country. So patriotism is very important. Game Changer is here to bring awareness about patriotism."
His friends call him the preacher and this is not just based on his knowledge and adherence to the tenets postulated by the Quran, but because he never stops preaching the gospel of unity among Nigerians, believing in the oneness of the country as a pathway to wealth creation in a more sustainable way, strength and endless possibilities. No wonder his house is always like a beehive or a Mecca of some kind.
Garba sees leadership as the ability to see beyond tomorrow and to commit to that vision totally, when those around you follow you with absolute commitment even when they do not see what you see.
"Those who do not remember history are certainly bound to be consumed by it. It has happened in many countries before. The Asian tigers, from Singapore to Malaysia, Thailand to China, they have all gone through what we are going through. Mao Zedong closed up China for 50 years before opening up. America's democracy took over 200 years to get to where they are now. Ours is only 50+ and with such multi ethnic groups, patience is the key."
Philanthropy and Titles
Awwal Garba is a man with a heart of gold, compassionate, kind and in tune with his people. He believes in creating high-points in his life each day and one of those is the opportunity to make someone happy.
"There are just countless moments with that, but what you can do is to create one every day. Most importantly, put a smile on someone's face and the picture stays with you permanently."
It is not surprising then that he has been honored with the prestigious traditional titles of 'Galadima Talban', and 'Talban Dan Hausa Daura'.
Family
Alhaji Awwal Garba maintains a closely knit family even as a very busy person, understanding the importance of family. Despite his busy schedule, which has shrunken some social activities, he still finds time to spend with his family.
"The pressure of work increased with growth, so whatever time I can squeeze out now for personal issues, I spend it with my family. We take the children to game parks when they are on holidays and try to have a feel of their minds by coming down to their level and appreciating them. My biggest fear is not being able to meet up with the expectations of my family and my loved ones."
Even though Awwal Garba a fulfilled man, he believes in breaking new grounds as long as life permits him.
"I feel fulfilled in life, all the time. Yet, life itself is like sweet nectar from the most beautiful thorny fruit bearing tree. Once you taste it, you cannot but go back for another bite. I am always setting new goals to conquer."
As Eleanor Roosevelt aptly puts it, "Happiness is not a goal. It's a by-product of a life well lived."
It is from that standpoint that Alhaji Awwal Garba says," I believe in what life has dished out my way and believe me when I say if I have to do it all over again, I would not change a thing."
Indeed, there must be some unique feeling that comes with blazing trails and impacting lives.
The Biggest Barbeque Event in Lagos – Barbeque In The Park
On the 13th of August 2019, there will be the biggest barbecue gathering in Lagos. This open style cookout consciously draws young adults, families and celebrities to one live location. It is not just about music and barbeque but the experience.
There will be music performances by Blaqbonez, CKay, Superstar Ace, Kidda, Punchline, DJs and an open atmosphere for families to hang out with their kids and relatives.
GA Production will handle stage, sounds and lights at Muri Okunola Park.
HO9 via their Eat, Drink & Dance Lagos platform would showcase 5 Grill Master Chefs/Grill brands who are undoubtedly at the top of their game.
There would be a live presentation of signature grills by the master grill chefs while the food tasting will be done by some selected guests.
Barbeque in the Park aims at becoming the biggest Music Barbeque event in Lagos with various activities and packages for youths, working class and family with kids. The kid zone is a playground for kids to have fun, play and interacts with others. Nickel Kids Event will be on ground to make kids feel at home and have awesome experience.Each ticket comes with a complimentary barbeque for early birds to the event, the family ticket covers family with two kids.Imbibed within this initiative is the potential to become a staple that will expand the options artists, grill chefs and brands have to engage directly with the right audience who should know about them. Other things to expect: A beer village bubbly enough to take a dive in for the young and wild; a VIP section for celebrities to unwind and have meet and greet sessions, PlayStation games for the gamers, snooker tables, tennis boards competitions, showcases and giveaways with a blend of delicious foods from a plethora of Barbeque specialists serving it hot and spicy.There is much excitement about BIP – a value-driven event for different audience demographics and an avenue for brands to connect with their Target Audience.Now that you have been told, where else will you rather spend your Sallah holiday? Be there. It promises to be so much more mediums of fun!'Get your ticket here
Barbeque in the Park aims at becoming the biggest Music Barbeque event in Lagos with various activities and packages for youths, working class and family with kids.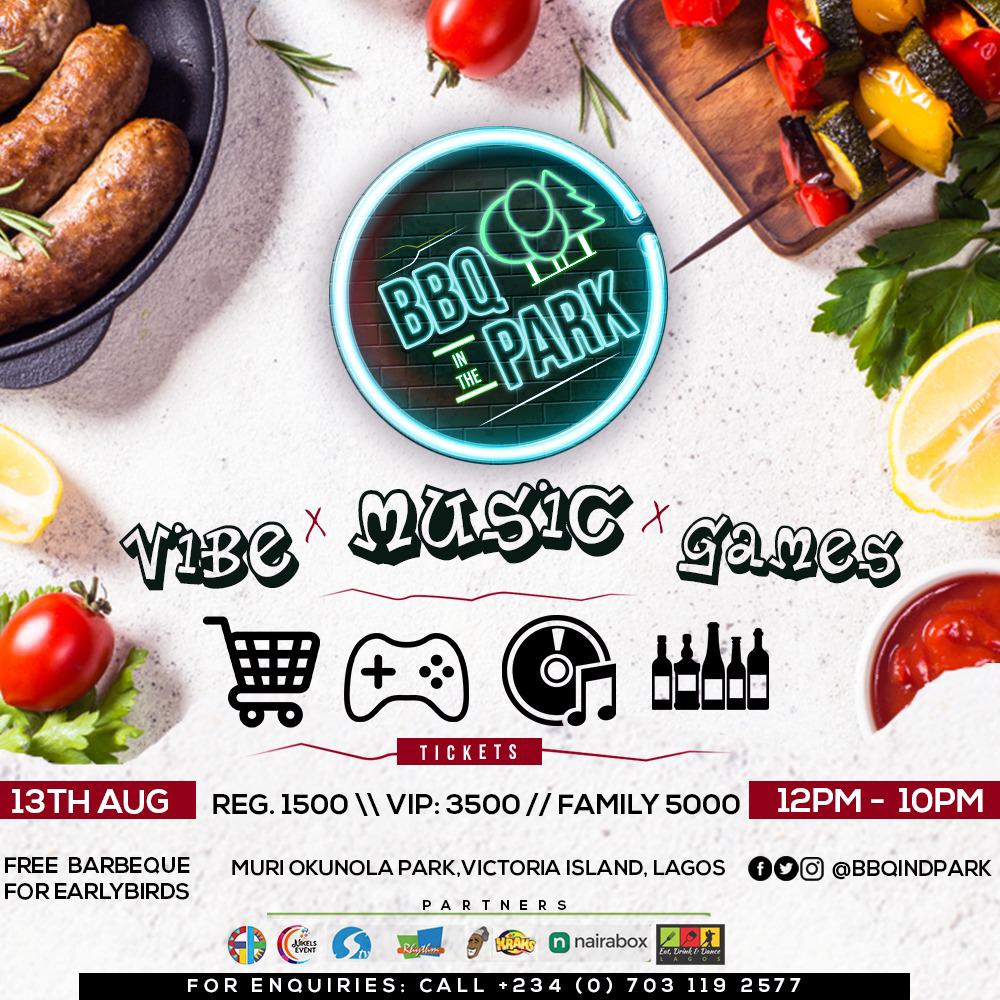 The kid zone is a playground for kids to have fun, play and interacts with others. Nickel Kids Event will be on ground to make kids feel at home and have awesome experience.
Each ticket comes with a complimentary barbeque for early birds to the event, the family ticket covers family with two kids.
Imbibed within this initiative is the potential to become a staple that will expand the options artists, grill chefs and brands have to engage directly with the right audience who should know about them.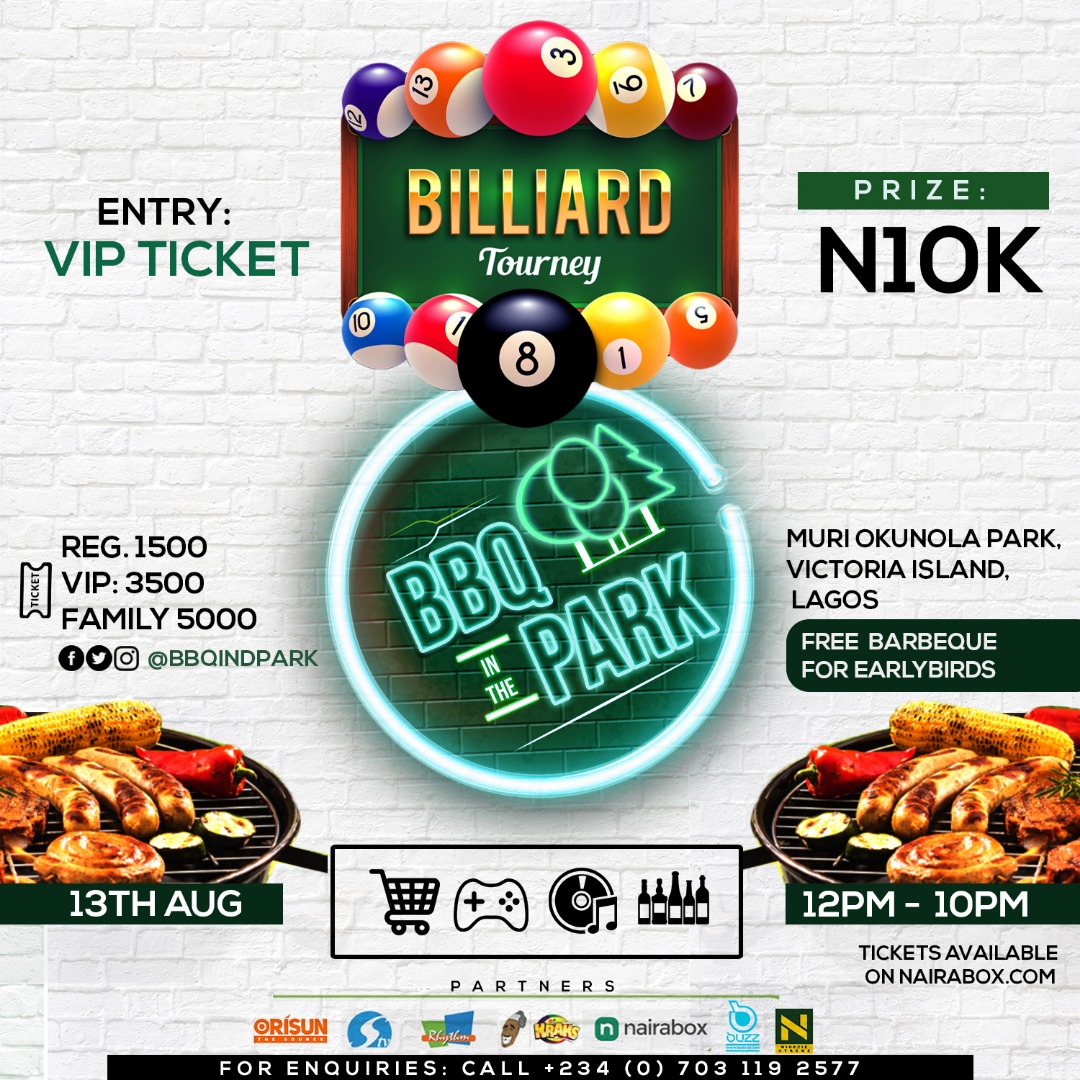 Other things to expect: A beer village bubbly enough to take a dive in for the young and wild; a VIP section for celebrities to unwind and have meet and greet sessions, PlayStation games for the gamers, snooker tables, tennis boards competitions, showcases and giveaways with a blend of delicious foods from a plethora of Barbeque specialists serving it hot and spicy.
There is much excitement about BIP – a value-driven event for different audience demographics and an avenue for brands to connect with their Target Audience.
Now that you have been told, where else will you rather spend your Sallah holiday? Be there. It promises to be so much more mediums of fun!'
Get your ticket here