Herdsmen from all parts of Nigeria should relocate to Kano, says Ganduje
Abdullahi Ganduje, governor of Kano state, has called on herdsmen across the country to relocate to Kano.
Speaking during the monitoring of the state's vaccination of over one million cattle and other animals at Kadawa Artificial Insemination Centre in the Garum Malam local government area of Kano, Ganduje said had vast grazing land to accommodate herdsmen and their cattle.
The governor said the vaccination was initiated to keep animals healthy and improve the economy of the state.
He said as part of the government's commitment to encouraging herdsmen in the state, his administration had been providing facilities that would accommodate the herdsmen and their cattle to discourage them from moving to other states in search of grazing land.
"Fulani herdsmen of Kano origin do not move out of Kano to other states because we have enough grazing land, ranches and traditional stock route," he said.
"They don't have any reason to move out of the state. We take care of them and we accord them the respect and dignity they deserve.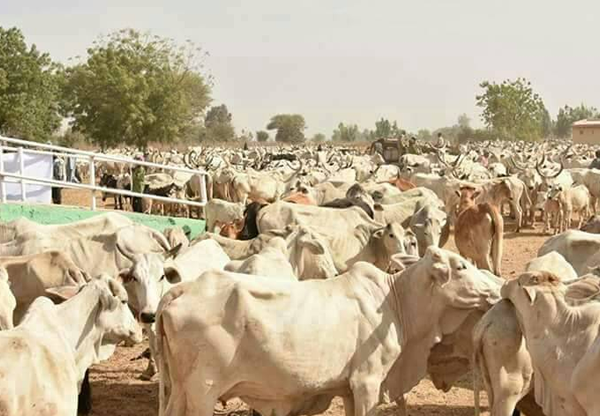 "I am inviting herdsmen from all parts of Nigeria to relocate to Kano because we have enough facilities to accommodate them. We have grazing land in Rogo, Gaya, Kura, Tudun Wada, Ungogo and other places, where facilities have been provided to accommodate the herdsmen and their cattle."

The governor revealed that his administration was in collaboration with the federal government and foreign agencies to convert the Falgore Game Reserve into a modern grazing land.

"Falgore Game Reserve can take care of millions of herdsmen and their cattle in Nigeria. The location has been designed to accommodate schools, human and animal clinics, markets, recreational centres and other social amenities that would provide the herdsmen enough comfort to take care of their animals and transact their business without any hindrance," he said.

"These killings must stop. We cannot afford to continue to witness these senseless killings in the name of Fulani herdsmen and farmers clash over lack of grazing land when we have a place like the Falgore Game Reserve, which is being underutilised."