Melania Trump would be the only First Lady to pose in the NUDE and talk about her 'incredible' sex life
If Donald Trump is elected president, his wife, Melania, would be the most beautiful and elegant first lady to inhabit the White House since Jackie Kennedy.
Mrs. Trump, knowledgeable sources tell Daily Mail Online, has all the sophistication, poise and quiet strength to be the next Jackie.
The 45-year-old Eastern European former model studied art and architecture, speaks four languages (English, of course, Slovenian, French and German) has her own, personally designed line of jewelry and watches, and is the devoted mother of nine-year-old Trump scion Barron – Trump's youngest of five children from three wives.
Melania is  also 'the rock' that her real estate mogul husband, now leading in the GOP polls, relies on.
She plans to start campaigning for her husband in August, Trump told Hollywood Reporter in a recent interview.
 'She wants to do it. She is a very confident person. She's got a great style, and she would be an amazing first lady with heart,' he said.
When the 69-year-old Trump explored a possible presidential run in 1999, Melania was asked what kind of role she would play if he ever became commander-in-chief.
'I would be very traditional like Betty Ford or Jackie Kennedy', she replied.
Jacqueline Kennedy Onassis authority Pamela Keogh, and first lady expert Carl Sferrazza Anthony – both of whom have written critically acclaimed books about Jackie – recognize many similarities between President John F. Kennedy's iconic first lady, and the fashionable Mrs. Trump, who might just become the 45th first lady of the land.
'Like Jacqueline Kennedy, Melania Trump is beautiful, discreet, smart and keeps her own counsel,' Keogh, author of the books Jackie Style, told Daily Mail Online in an exclusive interview.
'Melania would be a terrific first lady, and like Jackie she's got great style, is great looking, and when she walks into a room, everyone pays attention. I don't think Melania has any personal ambitions, unlike Hillary Clinton.
'Melania's much like Jackie, who really wanted to further JFK's ideals. Melania keeps a pretty low profile, and allows Donald to shine, which is very similar to what Jackie did with Jack.
'Like Jackie, she's very well educated,' continued Keogh. 'She's glamorous and she's an authentic beauty, not a made-up, plastic surgery, fake person. Jackie, too, was an authentic beauty. Because she has great personal style, Melania (who chose a $200,000 gown for her wedding to Trump) would certainly revive interest in the fashion industry, much like Jackie did.'
Someone commenting on a Washington, D.C, discussion board recently observed, 'I think the glamour and sophistication would surpass the Kennedy White House. I also believe that it would help our relations with Europe…It's about having a European first lady.'
Carl Anthony, author of an oral history biography of Jackie Kennedy, As We Remember Her, along with two volumes entitled, First Ladies: The Saga of the President's Wives and Their Power, told Daily Mail Online he's intrigued by the possibility of a Trump presidency because there would be a number of interesting biographical facts with Melania as first lady.
'She would be only the second first lady born outside the U.S., the first being Louisa Adams, born in England, and Melania would be the only first lady born and raised in a communist nation. She would also be the first first lady who is the third wife of a president, and the second to have married a divorced man – the first being Nancy Reagan.
'She would be the third first lady who worked as a professional model. Pat Nixon did so, on and off, in New York and Los Angeles before her marriage, and Betty Ford was contracted as a professional runway and print ad model in New York with the John Powers Agency.'
But Melania is not without a bit of raciness in her past.
Melania would be the only known first lady who once posed nude – for the British edition of GQ, on a bearskin rug on Trump's private jet before they were married in 2000,
She told Howard Stern that same year, 'We have incredible sex at least once a day. Sometimes even more.'
Trump bragged about Melania's hotness in a 'very small thong.'
The possibility of Melania Trump, who became an American citizen in 2006, becoming the next first lady is generating much media buzz.
Politico recently noted that should she 'become first lady, expect a White House with more one-percent touches than even Nancy Reagan, the last presidential spouse famous for her lavish tastes.'
CNN, which has been covering the Trump run virtually nonstop, has called her 'Trump's secret weapon'.
Melania Trump's fairy tale life began in Slovenia, then a part of Yugoslavia.
She was born April 26, 1970. Her family – the name was Knauss — was affluent. Her mother, Amalija, reportedly was a fashion designer, her father, Victor was said to have been a successful businessman, managing motorcycle and automobile dealerships. Along with Melania, there was an older sister.
At the age of five, she started modeling. At 18, she signed with her first modeling agency in Milan.
When she was 19, always creative with an interest in art and architecture, she graduated from the Academy of Design and Architecture, in Ljubljana, Slovenia's capital.
She then seriously launched her modeling career, working in Paris and Milan, and appeared on the covers of European editions of Vogue — an exotic, dark-haired Slavic beauty who was multilingual
Paolo Zampolli, founder of ID Models Management, invited her to join his agency in the U.S. He told the New York Post in 2005 that she was a 'homebody' and not a 'party girl' like many young models.
In 1996, after arriving in New York City, her image appeared on a Camel cigarettes billboard in Times Square. The leggy beauty began posing in the catalogs of such upscale stores as Lord & Taylor and Bergdorf Goodman, and was part of a Concord Watch campaign.
Soon, the biggest names in fashion photography were shooting her, and she was gracing the covers of Harper's Bazaar, In Style and was in the 2000 Sports Illustrated swimsuit issue, along with Vanity Fair and Elle, and appearing in TV commercials.
The designer of sexy, expensive women's shoes, Manolo Blahnik, called her a 'true beauty,' declaring, 'She has IT.'
At a party in 1998, at Manhattan's trendy Kit Kat Club, 28-year-old Melania, then living in a one-bedroom Manhattan apartment, met 52-year-old Donald Trump, who was said to have been there with another woman.
Melania was no party girl. When she wasn't modeling she spent her time reading, watching old moves on television and designing clothes.
'It was fashion week and it was a fashion party and we were both invited and that's where we met,' she later said.
At the time, Trump was separated from his second wife, Marla Maples, whom he divorced in 1999. At that party, he asked, but Melania refused to give him her telephone number, later telling a New York Times reporter, 'I am not a girl who will just give away the number to anybody.'
Instead, he gave her his numbers, and she called the master of the New York universe several days later.
The rest, as they say, is history.
Soon she was sporting a birthday gift from the outspoken, big-spending real estate tycoon: a diamond-and-gold watch from Piaget that cost thousands of dollars.
Because she was gorgeous and decades younger, there was talk that 5′ 10 ½' Melania — who stands over six-feet plus in her Louboutins — was just another leggy European gold digger out to snag a rich, older American.
But as Joyce Wadler of the New York Times observed in December 1999, Donald Trump 'got a woman who does not simply stand by her man, but over him.'
Back then he sometimes referred to his trophy girlfriend loudly and proudly in public as 'my supermodel.'
The billionaire's fiscal conservatism, which appeals to his supporters, was amply demonstrated in the time frame leading up to his January 22, 2005 wedding ceremony in Palm Beach, when it was reported that the author of the bestselling 'The Art of the Deal,' managed to get a fifty-percent discount on the $1.5 million, fifteen carat diamond ring that he put on Melania's finger.
When the deal was made public, Trump was quoted as saying, 'Only a fool would say, "No thank you, I want to pay a million dollars more for a diamond."'
Melania, then 34, apparently was not so frugal.
In order to find the most fabulous wedding gown that money could buy, she traveled to Paris with a pair of fashionistas from Vogue, Andre Leon Talley, and Sally Singer.
Melania's $200,000 bridal gown from the Paris fashion house Christian Dior, designed by John Galliano, had one hundred yards of material, took 550 hours to piece together – and most of those hours involved just doing the embroidery, replete with fifteen hundred crystal rhinestones and pearls. The veil alone was sixteen feet in length, the train thirteen feet long.
It was said to be the most expensive wedding gown ever made at the time. But it was well worth the labor because it gave her top-line publicity.
Anna Wintour, editor-in-chief of the fashion bible Vogue, put Melania on the cover of the February 2005 issue, draped in the sumptuously fabulous gown. The headline, heralding the 17-page story, read: 'EXCLUSIVE: DONALD TRUMP'S NEW BRIDE. The Ring, The Dress, The Wedding, The Jet. The Party.'
Vogue concluded that Donald was 'lucky' to marry Melania, and noted that the designer Tom Ford had suggested that she do something about his often joked about hair.
Her response: 'I like him the way he is.'
When Trump considered having his 2005 wedding with Melania actually televised, she put her foot down. The offer to broadcast the affair had come from NBC, home of Trump's 'The Apprentice.'
'There hasn't been a live wedding since the royal wedding. Three hours in prime time? That's $25 million in advertising,' Trump declared at the time.
But he bowed to his lady's wish to keep the event more private at their very royal Mar-A-Lago estate in Palm Beach.
The press and the paparazzi were out in force, with helicopters buzzing the celebration and shooting photos of the hundreds of guests and dozens of celebrities, including the woman who could be Trump's presidential opponent, Hillary Clinton. Billy Joel entertained, making up lyrics about Trump to the tune of, 'The Lady is a Tramp.'
The Trumps live royally, and there are some who suggest the White House residence might not be up to their gold standard. Most new first families arrive in Washington awed by the presidential perks – Air Force One, the military helicopters at their disposal, the limos, the security.
But all of that is old hat to Donald and Melania who have their own jets, choppers, limos and much more.
They divide their time between their Versailles-like Palm Beach hacienda and their 66th floor palace in Manhattan's Trump Tower where the dining room reportedly has floor-to-ceiling windows with gold panes, candelabra in gold, mirrors etched with gold.
While the Kennedy White House was known as Camelot. if the Trumps should move in it probably will be called 'Have-a-lot.'
Melania's twitter feed (with more than 46,000 followers) is filled with glimpses of an opulent lifestyle, decidedly out of touch with the majority of Americans her husband is angling to lead.
In 2012, she opened her closet for Elle magazine, showcasing designer handbags and a slew of silky pink negligees.
When Melania was 36 in 2006, she gave birth to Barron William Trump, announcing it to the world on her website, and describing him as a 'beautiful healthy baby boy – 8.5 lbs. and 21 inches long. Donald and I are very happy and excited. We can't wait to take our little Trump to his new home.'
'Sex-Toy' Senator Thrown Into Homosexual Controversy, Accuser In Court
Senator Ishaku Abbo facing trial for harassing a lady in an Abuja sex toy shop has again been thrown into the limelight after a political rival was taken to court allegedly for throwing homosexual taunts at the senator.
The rival, Nurudeen Kama, who served as social media aide to former Governor Bindow Jibrila was alleged to have taunted the senator on Facebook alleging him to be bisexual and of infecting innocent girls with HIV.
Senator Abbo apparently reported him and Kama was arrested in Yola last week Friday by men of Department of State Services (DSS) over alleged defamation of character on his Facebook page following a formal complaint lodged against him by the senator was taken to court Monday afternoon by the Adamawa state police command.
In a suit filed at the Magistrate Court 4 in Yola, Nurudeen Kama is being accused of using derogatory words against the lawmaker on his social media handles (facebook), thereby tarnishing his image before members of the public.
Kama had allegedly written,
"Tafawa Balewa was not bisexual. Tafawa Balewa had no record of molesting women.
"Tafawa Balewa had no HIV. Balewa didn't transmit HIV to any girl deliberately.
"Tafawa Balewa was not a drunk. Tafawa Balewa never took drugs. Tafawa Balewa was not a gay. Tafawa Balewa was not an idiot.
"Therefore, comparing Tafawa Balewa with a sex toy senator is an insult to the late prime minister."
"For the records, they cloned my WhatsApp to blackmail and put me on the defensive but I'm not moved even for a minute.
" Cliff and his bisexual friends should work more on redeeming his battered image decently and not by mischievous blackmail for God sake, what parts of Cliff Abbo's "attention" do I need? To learn how to become a bisexual or how to deliberately transmit HIV to any girl that shows a sign of resistance to my other demands?
" If joining black magic for fame is what it means to be great, I rather buy an ovaprim and a broodstock from the next available fish farm and breed for a living.
"For those who believed in their lies or blackmail, I will not only excuse them but forgive them because most time we are ignorant of the extent idiots can go in order to blackmail you."
Ruling on the oral bail application filed by his lawyer who is also the state APC legal adviser Barr. Shaknah Pwamaddi, the Judge directed the accused to produce two sureties which must include his blood relative and a traditional ruler in his community.
The judge stated that one of the sureties must be resident within the jurisdiction of the court and the defendant must sign an undertaking not to temper with the ongoing investigations of the matter, among other conditions.
Speaking in an interview with journalists, Barr. Pwamaddi expressed satisfaction with the ruling stressing that they are battle-ready to defend their client and prove his innocence.
Lagos Socialite, Sir K Lamina, Sent To Prisons For Alleged Robbery, Murder
Lagos socialite and suspected land grabbing kingpin, Chief Kamorudeen Olaseni Lamina, popularly called 'Sir K Oluwo', has been ordered to be remanded in prison custody by a Chief Magistrate Court in Sagamu, Ogun State.
P.M.EXPRESS learnt that Lamina was arraigned over allegations of terrorising land owners in some communities around Ikorodu and Shagamu axis of South-western part of Nigeria.
The accused is facing a four-count charge of attempted murder, conspiracy to murder, murder, unlawful possession of firearms and armed robbery in suit number MSH/289c/2019, and will be remanded in prison pending further notice pending the Attorney-General's legal advice.
The charge reads: "That you, Otunba Kamorudeen Lawal (m) and others still at large with those in charge number MSH/82C/2011 on or before the 9th of March, 2011 at Ologbon Odukosi village, in the Sagamu Magisterial District, did conspire together to commit felony to wit; armed robbery and thereby committed an offence contrary to and punishable under section 6(b) of the robbery and firearms (special provision) acts laws of Federation of Nigeria, 2004."
The second charge reads, "That you, Otunba Kamorudeen Lamina and others still at large, with those in charge number MSH/82C/2011 on the same day, time and place in the aforementioned magisterial district, did rob one Saka Gbemisola, Kareem Bello and others of the sum of One Hundred and Eighty Thousands Naira (N180,000.00), one Astor Electronic Teoolita with its tripod valued Thirty Thousand Naira (N30,000.00, gsm handset, cloths, shoes, wrist watches and identity cards value yet to be estimated while armed with guns, axes, cutlasses, knives and thereby committed an offence punishable under section 1(2)(a) of the robbery and firearms (special provision) Act Laws of Federation of Nigeria, 2004."
The third charge reads, "That you, Otunba Kamorudeen Lamina and others still at large, with those in charge number MSH/82C/2011 on the same date, time and place aforementioned magisterial district did unlawfully conspire to commit felony to wit; murder and thereby committed an offence contrary to and punishable under section 324 of the criminal code laws of Ogun State of Nigeria, 2006."
The fourth charge stated that, "That you, Otunba Kamorudeen Lamina and others still at large, with those in charge number MSH/82C/2011 on the same date,time and place in the aforementioned magisterial district, did unlawfully kill Akeem Adegbaru (m), Fatai Adeleye (m) and Adebisi Adelakun (m) by matcheting them with cutlasses and thereby committed an offence contrary to section 316 and punishable under section 319 of the criminal code of laws of Ogun State of Nigeria, 2006."
The defence counsel, Bayo Omotuburuwa, had earlier prayed the court not to grant the ex-parte application which was placed before the court by the Prosecuting Counsel, Adeola Adeleye.
Due to this, the case was stepped down around 11.00 a.m., after which the court re-conveyed at 01.20 p.m.
The defence counsel also prayed the court to grant his client bail, quoting Section 307 of the Administration of Criminal Justice (ACJ) to support his argument, but the court refused the prayer.
The prosecuting counsel, however, argued that nothing is stopping the ex-parte application from being heard in the court, adding that an application that is not challenged must be heard and the ex-parte application must be heard.
He added, "The court has the final decision to either grant the remand order or not, and the respondent has no order challenging the ex-parte application."
The chief magistrate, B.J Ojikutu, in his ruling, denied the bail application by the accused counsel and ordered that the accused be remanded in prison, pending the Attorney-General's legal advice.
He adjourned further hearing to September 26.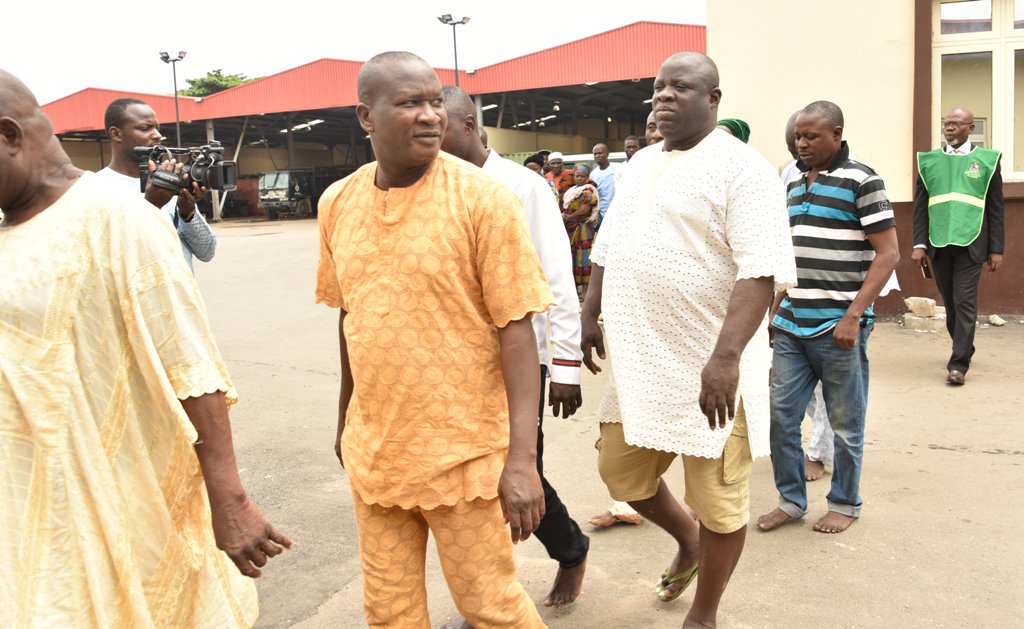 It would be recalled that in June 2017, Lamina with others were arrested and arraigned at the Lagos State Special Offences Court for violently grabbed lands belonging to some residents of Ikorodu and adjourning communities.
After nearly a month in detention, he was granted bail and later fled Lagos State.
It was learnt that Sir K then shifted his base to Ogun State with minor or no law against land grabbing until about a year ago.
His alleged atrocities of terrorising innocent people of some communities got to the Ogun State task force on land grabbing via scores of petitions and SOS messages by some victims.
He was later arrested and now arraigned.
Ojude Oba 2019; Proudly Sponsored By FCMB
It was a rich showcase of colours, culture and tradition at this year's Ojude Oba Festival which held in Ijebu-Ode, Ogun State on August 13, 2019.
The Ojude Oba, (which in Ijebu dialect means, "the king's forecourt or frontage", is a major festival in Nigeria that began over 100 years ago. It brings together all sons and daughters of Ijebuland in Nigeria and diaspora for a carnival-like celebration of the traditional, cultural, spiritual accomplishments and other values of the Ijebu nation.
During the Festival, various age groups (popularly known as the Regberegbes), indigenes, their friends and associates from far and near – all in their colourful costumes and riding on horses, thronged the palace of the Awujale of Ijebuland to pay homage to him amidst prayers and other fun-filled activities.
Sponsors of the Ojude Oba Festival and foremost Nigerian financial institution First City Monument Bank (FCMB) congratulated the Awujale and Paramount Ruler of Ijebuland, Oba (Dr.) Sikiru Kayode Adetona, chiefs, age groups, all indigenes, friends and well-wishers of Ijebuland on this year's festival.
The Bank reiterated its commitment to support activities that promote and add value to Nigeria's culture and heritage which are also capable of boosting tourism, trade and the hospitality sector.
FCMB's participation was as usual grand, exciting and rewarding for the thousands of people within and outside the country that graced the fiesta.In a goodwill message to the Awujale of Ijebuland, Oba (Dr.) Adetona, the Founder of FCMB Group, who is also the Olori Omo-Oba Akile Ijebu, Otunba (Dr) Olasubomi Balogun, CON, expressed his gratitude to the paramount ruler for his selflessness, distinguished and exemplary leadership for the 59 years he has been the paramount ruler of Ijebuland, which makes him one of the longest reigning monarchs in Nigeria.In the same vein, the Group Chief Executive of FCMB Group Plc, Mr. Ladi Balogun, congratulated the monarch for upholding the values of Ijebuland and raising the status of the event over the years.
He stated that, ''the Ojude Oba Festival is a rallying point to promote the sustainable growth and development of our community. We recognise that celebrating our heritage is an important part of our national identity, a means of educating visitors and future generations about our history and an opportunity to measure our growth, development and sustainability.
Hence, for us at FCMB, the Ojude Oba Festival is not just another event. It is a pride to us; being a major platform through which we reaffirm our commitment to the community and promote our nation's cultural diversity.
We will continue to support all activities of the State with focus on the economic and social development. We are committed to the longevity of the Ojude Oba Festival and are proud to be associated with its grandeur''.
For more information about FCMB, please visit www.fcmb.com some pictures from Ojude Oba 2019 are shown below: