Fresh trouble brews in Ibadan as Balogun defies Olubadan's order on Egungun festival
Ibadan masqueraders, in large number, on Wednesday converged on the Aliiwo family house of the Otun Olubadan, Oba Lekan Balogun, to entertain him and his guests.
The event was against the directive issued by the Olubadan, Oba Saliu Adetunji, that only him and Governor Seyi Makinde should play host to the masqueraders this year.
Ahead of the beginning of the annual festival on Monday, Oba Adetunji had through his Personal Assistant/Director of Media and Publicity, Adeola Oloko, said: "Only the Oyo State Governor, Seyi Makinde, and the Olubadan of Ibadanland would be entertained by the masqueraders".
But, the masqueraders turned out in large numbers, coming into the large compound one after the other to entertain Oba Balogun, who was accompanied by his colleague-Obas, including Balogun of Ibadanland, Owolabi Olakulehin, Eddy Oyewole, Lateef Adebimpe, Hamidu Ajibade , among others, to shower gifts on the masqueraders as they danced and prayed for peace, stability and growth of Ibadanland.
The climax of the festival, which included an acrobatic display by the local gymnasts, was the traditional killing of a dog – a ritual statutorily reserved for one of the foremost masquerades in Ibadanland, "Atipako".
Speaking with reporters after the ritual, which was followed by a downpour, Oba Balogun described the programme as "incredibly fantastic".
He wondered why the Olubadan should insist that he alone among the members of Olubadan-in-Council should receive the masqueraders in his palace.
The monarch added that Oba Adetunji, ever before he qualified to host the masqueraders by virtue of his position then as "Ekerin Balogun", had to plead for it from the late Oba Odugade Odulana and the late monarch graciously approved it with inputs from some of the then High Chiefs.
"It is now inexplicable why Oba Adetunji should wish to deny those of us who genuinely qualify to host the masqueraders.
"Olubadan tried it last year and failed just as he has equally failed to stop the outing this year. What he stands to benefit from robbing our tradition which should be promoted by him remains unknown to us. But, thankfully, the custodians of the masquerades had taken it upon themselves to protect the tradition in defiance of his order which lacks logic.
"For the umpteenth time, we are saying we have no problem with him as the Ibadan foremost monarch and the reform being attacked by him has not in any way diminished his status. As Otun Olubadan, I'm behind him just like other high chiefs promoted as Obas and we still retain our titles," the monarch said.
When Oba Balogun was reminded that ordinarily, the pronouncement of a monarch should automatically be binding on all his subjects and their defiance amounts to insubordination, he said "the popular saying in Yoruba that 'toba lase' presupposes that Oba would always weigh his directive before making pronouncement".
'Sex-Toy' Senator Thrown Into Homosexual Controversy, Accuser In Court
Senator Ishaku Abbo facing trial for harassing a lady in an Abuja sex toy shop has again been thrown into the limelight after a political rival was taken to court allegedly for throwing homosexual taunts at the senator.
The rival, Nurudeen Kama, who served as social media aide to former Governor Bindow Jibrila was alleged to have taunted the senator on Facebook alleging him to be bisexual and of infecting innocent girls with HIV.
Senator Abbo apparently reported him and Kama was arrested in Yola last week Friday by men of Department of State Services (DSS) over alleged defamation of character on his Facebook page following a formal complaint lodged against him by the senator was taken to court Monday afternoon by the Adamawa state police command.
In a suit filed at the Magistrate Court 4 in Yola, Nurudeen Kama is being accused of using derogatory words against the lawmaker on his social media handles (facebook), thereby tarnishing his image before members of the public.
Kama had allegedly written,
"Tafawa Balewa was not bisexual. Tafawa Balewa had no record of molesting women.
"Tafawa Balewa had no HIV. Balewa didn't transmit HIV to any girl deliberately.
"Tafawa Balewa was not a drunk. Tafawa Balewa never took drugs. Tafawa Balewa was not a gay. Tafawa Balewa was not an idiot.
"Therefore, comparing Tafawa Balewa with a sex toy senator is an insult to the late prime minister."
"For the records, they cloned my WhatsApp to blackmail and put me on the defensive but I'm not moved even for a minute.
" Cliff and his bisexual friends should work more on redeeming his battered image decently and not by mischievous blackmail for God sake, what parts of Cliff Abbo's "attention" do I need? To learn how to become a bisexual or how to deliberately transmit HIV to any girl that shows a sign of resistance to my other demands?
" If joining black magic for fame is what it means to be great, I rather buy an ovaprim and a broodstock from the next available fish farm and breed for a living.
"For those who believed in their lies or blackmail, I will not only excuse them but forgive them because most time we are ignorant of the extent idiots can go in order to blackmail you."
Ruling on the oral bail application filed by his lawyer who is also the state APC legal adviser Barr. Shaknah Pwamaddi, the Judge directed the accused to produce two sureties which must include his blood relative and a traditional ruler in his community.
The judge stated that one of the sureties must be resident within the jurisdiction of the court and the defendant must sign an undertaking not to temper with the ongoing investigations of the matter, among other conditions.
Speaking in an interview with journalists, Barr. Pwamaddi expressed satisfaction with the ruling stressing that they are battle-ready to defend their client and prove his innocence.
Lagos Socialite, Sir K Lamina, Sent To Prisons For Alleged Robbery, Murder
Lagos socialite and suspected land grabbing kingpin, Chief Kamorudeen Olaseni Lamina, popularly called 'Sir K Oluwo', has been ordered to be remanded in prison custody by a Chief Magistrate Court in Sagamu, Ogun State.
P.M.EXPRESS learnt that Lamina was arraigned over allegations of terrorising land owners in some communities around Ikorodu and Shagamu axis of South-western part of Nigeria.
The accused is facing a four-count charge of attempted murder, conspiracy to murder, murder, unlawful possession of firearms and armed robbery in suit number MSH/289c/2019, and will be remanded in prison pending further notice pending the Attorney-General's legal advice.
The charge reads: "That you, Otunba Kamorudeen Lawal (m) and others still at large with those in charge number MSH/82C/2011 on or before the 9th of March, 2011 at Ologbon Odukosi village, in the Sagamu Magisterial District, did conspire together to commit felony to wit; armed robbery and thereby committed an offence contrary to and punishable under section 6(b) of the robbery and firearms (special provision) acts laws of Federation of Nigeria, 2004."
The second charge reads, "That you, Otunba Kamorudeen Lamina and others still at large, with those in charge number MSH/82C/2011 on the same day, time and place in the aforementioned magisterial district, did rob one Saka Gbemisola, Kareem Bello and others of the sum of One Hundred and Eighty Thousands Naira (N180,000.00), one Astor Electronic Teoolita with its tripod valued Thirty Thousand Naira (N30,000.00, gsm handset, cloths, shoes, wrist watches and identity cards value yet to be estimated while armed with guns, axes, cutlasses, knives and thereby committed an offence punishable under section 1(2)(a) of the robbery and firearms (special provision) Act Laws of Federation of Nigeria, 2004."
The third charge reads, "That you, Otunba Kamorudeen Lamina and others still at large, with those in charge number MSH/82C/2011 on the same date, time and place aforementioned magisterial district did unlawfully conspire to commit felony to wit; murder and thereby committed an offence contrary to and punishable under section 324 of the criminal code laws of Ogun State of Nigeria, 2006."
The fourth charge stated that, "That you, Otunba Kamorudeen Lamina and others still at large, with those in charge number MSH/82C/2011 on the same date,time and place in the aforementioned magisterial district, did unlawfully kill Akeem Adegbaru (m), Fatai Adeleye (m) and Adebisi Adelakun (m) by matcheting them with cutlasses and thereby committed an offence contrary to section 316 and punishable under section 319 of the criminal code of laws of Ogun State of Nigeria, 2006."
The defence counsel, Bayo Omotuburuwa, had earlier prayed the court not to grant the ex-parte application which was placed before the court by the Prosecuting Counsel, Adeola Adeleye.
Due to this, the case was stepped down around 11.00 a.m., after which the court re-conveyed at 01.20 p.m.
The defence counsel also prayed the court to grant his client bail, quoting Section 307 of the Administration of Criminal Justice (ACJ) to support his argument, but the court refused the prayer.
The prosecuting counsel, however, argued that nothing is stopping the ex-parte application from being heard in the court, adding that an application that is not challenged must be heard and the ex-parte application must be heard.
He added, "The court has the final decision to either grant the remand order or not, and the respondent has no order challenging the ex-parte application."
The chief magistrate, B.J Ojikutu, in his ruling, denied the bail application by the accused counsel and ordered that the accused be remanded in prison, pending the Attorney-General's legal advice.
He adjourned further hearing to September 26.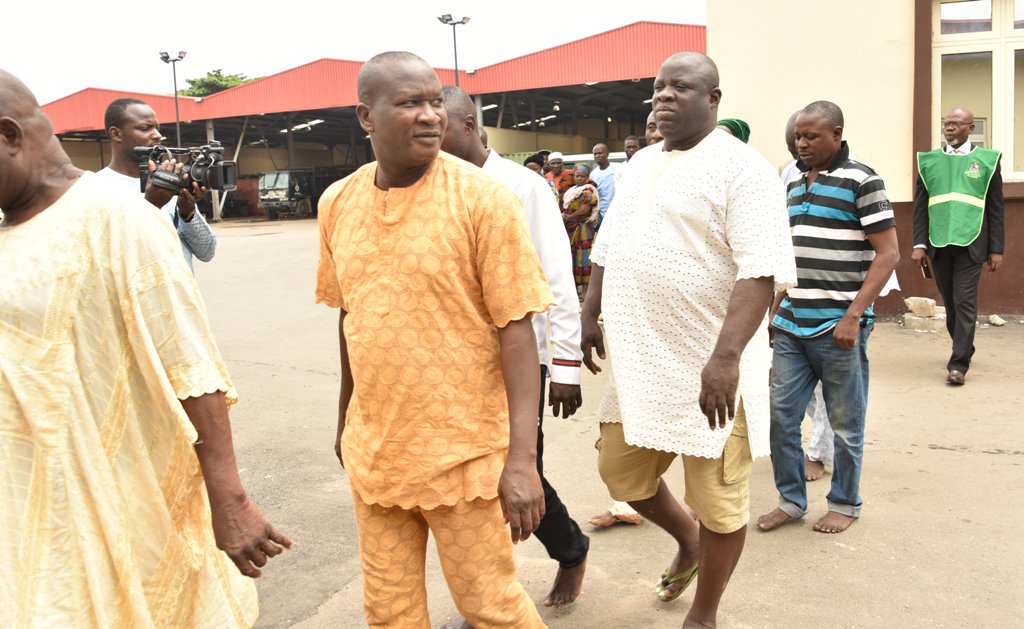 It would be recalled that in June 2017, Lamina with others were arrested and arraigned at the Lagos State Special Offences Court for violently grabbed lands belonging to some residents of Ikorodu and adjourning communities.
After nearly a month in detention, he was granted bail and later fled Lagos State.
It was learnt that Sir K then shifted his base to Ogun State with minor or no law against land grabbing until about a year ago.
His alleged atrocities of terrorising innocent people of some communities got to the Ogun State task force on land grabbing via scores of petitions and SOS messages by some victims.
He was later arrested and now arraigned.
Ojude Oba 2019; Proudly Sponsored By FCMB
It was a rich showcase of colours, culture and tradition at this year's Ojude Oba Festival which held in Ijebu-Ode, Ogun State on August 13, 2019.
The Ojude Oba, (which in Ijebu dialect means, "the king's forecourt or frontage", is a major festival in Nigeria that began over 100 years ago. It brings together all sons and daughters of Ijebuland in Nigeria and diaspora for a carnival-like celebration of the traditional, cultural, spiritual accomplishments and other values of the Ijebu nation.
During the Festival, various age groups (popularly known as the Regberegbes), indigenes, their friends and associates from far and near – all in their colourful costumes and riding on horses, thronged the palace of the Awujale of Ijebuland to pay homage to him amidst prayers and other fun-filled activities.
Sponsors of the Ojude Oba Festival and foremost Nigerian financial institution First City Monument Bank (FCMB) congratulated the Awujale and Paramount Ruler of Ijebuland, Oba (Dr.) Sikiru Kayode Adetona, chiefs, age groups, all indigenes, friends and well-wishers of Ijebuland on this year's festival.
The Bank reiterated its commitment to support activities that promote and add value to Nigeria's culture and heritage which are also capable of boosting tourism, trade and the hospitality sector.
FCMB's participation was as usual grand, exciting and rewarding for the thousands of people within and outside the country that graced the fiesta.In a goodwill message to the Awujale of Ijebuland, Oba (Dr.) Adetona, the Founder of FCMB Group, who is also the Olori Omo-Oba Akile Ijebu, Otunba (Dr) Olasubomi Balogun, CON, expressed his gratitude to the paramount ruler for his selflessness, distinguished and exemplary leadership for the 59 years he has been the paramount ruler of Ijebuland, which makes him one of the longest reigning monarchs in Nigeria.In the same vein, the Group Chief Executive of FCMB Group Plc, Mr. Ladi Balogun, congratulated the monarch for upholding the values of Ijebuland and raising the status of the event over the years.
He stated that, ''the Ojude Oba Festival is a rallying point to promote the sustainable growth and development of our community. We recognise that celebrating our heritage is an important part of our national identity, a means of educating visitors and future generations about our history and an opportunity to measure our growth, development and sustainability.
Hence, for us at FCMB, the Ojude Oba Festival is not just another event. It is a pride to us; being a major platform through which we reaffirm our commitment to the community and promote our nation's cultural diversity.
We will continue to support all activities of the State with focus on the economic and social development. We are committed to the longevity of the Ojude Oba Festival and are proud to be associated with its grandeur''.
For more information about FCMB, please visit www.fcmb.com some pictures from Ojude Oba 2019 are shown below: