UBA Deepens Intra-African Trade With UBA Connect
United Bank for Africa (UBA) Plc, has introduced UBA Connect, a service that enables the customers of the bank to conduct traditional banking transactions at any UBA branch in the 20 African countries where the bank operates.
The service, which is available to both customers and non-customers alike, is expected to encourage intra-African trade, as cash withdrawal can now be done in local currencies within the continent while deposits can also be made at any location regardless of where the account is domiciled.
The Chief Executive Officer, UBA Group, Mr. Oliver Alawuba, who spoke about the product, said, "Africa stands to benefit substantially from intra-Africa trade, which is facilitated by the easy flow of capital within the continent. As a bank committed to creating superior value for all its stakeholders, we are focused on ensuring that we continue to contribute significantly to the development of Africa by improving accessibility and trade with UBA Connect, among other innovative services."
He explained that the new offering allows easy transfers to UBA accounts across African countries as well as cash deposit into UBA accounts at any of the bank's locations in Africa, adding that the cash will be dispensed to customers in local currencies at competitive exchange rates.
Group Head, Marketing, Mrs. Dupe Olusola, said, "We're thrilled to be able to offer our customers the ease and convenience of UBA Connect. This is in addition to an array of digital platforms which have made banking seamless for more than 12 million people who have trusted us with their money.
Richard Quest Visit Management Of Fidelity Bank Plc
CNN Anchor, Richard Quest, paid a courtesy visit on the Management of Fidelity Bank Plc on Monday, February 12. During the visit, he engaged the team on several issues including SME lending and leveraging digital channels to deepen financial inclusion in Nigeria.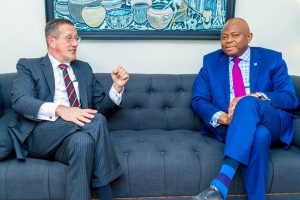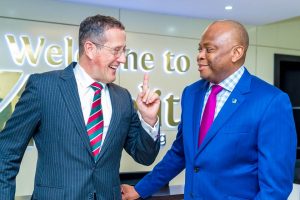 Fidelity Bank Trains 200 Sokoto Varsity Students in Skill Acquisition
Fidelity Bank Plc and Gazelle Academy have trained 200 undergraduates of Sokoto State University (SSU) in the acquisition of skills in fashion design, handsets repair, cocktail and make up.
Speaking at an event in Sokoto Monday, the Managing Director of Fidelity Bank, Nnamdi Nwankwo, represented by the bank's Head of Recruitment, Chris Nnawe, said the programme under Fidelity Youth Empowerment Academy Stream 7 (YEa7) is part of the bank's cooperate social responsibility.
"We in Fidelity bank have targeted programmes on education, environment and youth empowerment. This one you are witnessing today is part of fulfilling our promises to the society," he said.
Nwankwo said that the programme started in 2016 at the University of Nigeria, Nsukka, stressing that since then the bank and its partner, Gazelle Academy, have visited more than five higher institutions in the country, as this one is stream 7 of the programme.
According to him, youths were trained to acquire some skills to enable them to be self reliant and also make them to be employers of labour even while in school.
He disclosed that at the end of the training, start packs will be given to each participant to aid him/her to start something of their own, adding that after the undergraduates' education, they can seek for soft loans from the Small, Medium Enterprise (SMEs) Department of the bank.
On her part, the founder of Gazelle Academy, Mrs Muna Unuozo, said the programme was aimed at equipping the students with skills that they could use while still in school or after graduation.
She said that with the knowledge of the skill acquired, they could fend for themselves even while in school.
Speaking at the event, the Governor of Sokoto State Aminu Waziri Tambuwal thanked Fidelity Bank and Gazelle Academy for chosing the school for the programme.
Tambuwal said that as a responsible government, his administration have prioritized the welfare of the youths in the state.
He enjoined the participants to be focused and concentrate in order to benefit from the training.
Earlier, the Vice-chancellor of the university, Prof. Sani Dangogo, thanked Fidelity Bank and Gazelle Academy for the benevolent gesture, saying the training will go a long way in alleviating the financial burden of the students.
Gokada to rebrand as delivery company — after Lagos okada ban
Gokada, a bike-hailing company with operations based in Lagos, is redirecting its focus to logistics.
This is coming after the Lagos state government under the leadership of Babajide Sanwo-Olu banned the use of motorcycles and tricycles in 16 local governments and local council development areas.
Tweeting in response to a report about the company laying off most of its workforce, Fahim Saleh, Gokada CEO, said: "We still have money in the bank and are pivoting towards deliveries while this transport ban gets sorted".
According to Saleh, the company was due to make a profit in January when the ban was announced.
Gbenga Omotoso, the Lagos state commissioner for information and strategy, said the ban was decided after a review of casualties.
"After a robust assessment of the debate on what has been widely referred to as the motorcycle (okada) and tricycle (Keke Marwa) menace, the Lagos state government and the state security council have decided that the security and safety of lives of Lagosians are paramount," he said.
"The figures are scary. From 2016 to 2019, there were over 10,000 accidents recorded at the General Hospitals alone. This number excludes unreported cases and those recorded by other hospitals. The total number of deaths from reported cases is over 600 as at date."
In May 2019, Gokada announced that it secured $5.3 million investment through a fundraising process.
At the time, it said it would deploy the investment to expanding its driver fleet, increasing daily rides by 10 fold and acquiring local talent.
Since its launch in 2018, Gokada said it has acquired approximately 1,000 motorcycles and completed one million rides.