Nigeria in 'easy' group for 2019 AFCON
Super Eagles of Nigeria have been handed 'easy opponents' in group B for the 2019 Africa Cup of Nations (AFCON) in Egypt.
The Super Eagles of Nigeria will face Guinea, Madagascar, and Burundi in group B to advance to the knock out round in the summer African tournament at the Alexandria stadium.
The host nation, Egypt is drawn against DR Congo, Uganda, and Zimbabwe in group A.
Cote D'Ivoire who will be featuring for the 23rd time at the African showpiece in Egypt is paired against Morocco, South Africa and Namibia in group D.
Group D will also see a Cosafa derby between South Africa and Namibia.
The draw ceremony was held behind the famous Giza Pyramids on Friday night.
The 32nd Africa Cup of Nations will hold June 21 to July 19, 2019.
The six groups pairings for the 2019 AFCON:
Group A: Egypt, DR Congo, Uganda, Zimbabwe
Group B: Nigeria, Guinea, Madagascar, Burundi
Group C: Senegal, Algeria, Kenya, Tanzania
Group D: Morocco, Cote D'Ivoire, South Africa, Namibia
Group E: Tunisia, Mali, Mauritania, Angola
Group F: Cameroon, Ghana, Benin, Guinea Bissau
Six stadiums for the groups:
Group A: Cairo Stadium
Group B: Alexandria Stadium
Group C: Air Defense Stadium (Cairo)
Group D: Al Salam Stadium (Cairo)
Group E: Suez Stadium
Group F: Ismailia Stadium
Nigeria is the first team to book 2019 FIFA U17 World Cup ticket
Five-time world champions Nigeria became the first African team to book a 2019 FIFA U17 World Cup ticket after 1-0 defeat of Angola in Dar es Salaam on Wednesday.
Olakunle Olusegun earned the ticket to the tournament semifinals and to Brazil 2019 when he hooked a 21st-minute penalty to the roof of the net with Angola's goalkeeper Geovani stranded.
But the Golden Eaglets were guilty of profligacy and the technical crew certainly has much to do still.
As happened against host nation Tanzania on Sunday, the Eaglets proved to be masters of the use of space and close control, but they mostly lacked the right ideas and punch in the final third, just as some passes went astray at critical moments.
Two-goal hero against Tanzania, Wisdom Ubani could have been on the scoresheet in the 11th minute but his fierce effort from a 22 –yard free kick went narrowly off target.
Angola were not to be brow-beaten, as Zito latched onto the ball a few metres from the centre and unleashed a rocket that goalkeeper Sunday Stephen, in for the jittery Suleman Shaibu, did well to punch away.
Three minutes later, Stephen had to be alert to push away another fierce Angolan shot, but two minutes later, at the other end, Ubani's swift turn and shot came quite close with Geovani beaten.
An Angolan defender handled the ball in the box under pressure in the 21st minute, and Olusegun made no mistake from the spot to put Nigeria in front.
They could have had many more, but Shedrack Tanko bundled against the upright in the 42nd minute when it appeared easier to score, and Olusegun's effort to chip Goevani from a swift counter was well –read by the goalkeeper.
In the second period, the Eaglets' profligacy continued, even after the Angolans were reduced to 10 men in the 51st minute as Jose Cabincano earned a second yellow card.
In the 53rd minute, Ubani's stinging shot from 25 yards went narrowly over, and on the hour, when it appeared easier to score, Ubani passed the ball to onrushing Olusegun who missed from close range.
Substitutes Ibraheem Jabaar, Divine Nwachukwu and Peter Agba could not effect any improvement in the Eaglets' game, and Nwachukwu even missed a glorious opportunity with six minutes to the end.
The win means that the Eaglets return to the FIFA U17 World Cup after missing out of the last edition staged in India two years ago.
Nigeria will certainly finish at the head of Group A if they avoid defeat against Uganda at the same venue on Saturday.
Israel Adesanya beats Kelvin Gastelum in epic five-round bout to claim UFC interim middleweight title at UFC 236
Nigerian-born fighter Israel Adesanya knocked out his American opponent Kelvin Gastelum twice in the main event of the UFC 236 and claimed the UFC interim middleweight title after he was announced the winner via unanimous decision in an epic five-round fight that would go down as a classic.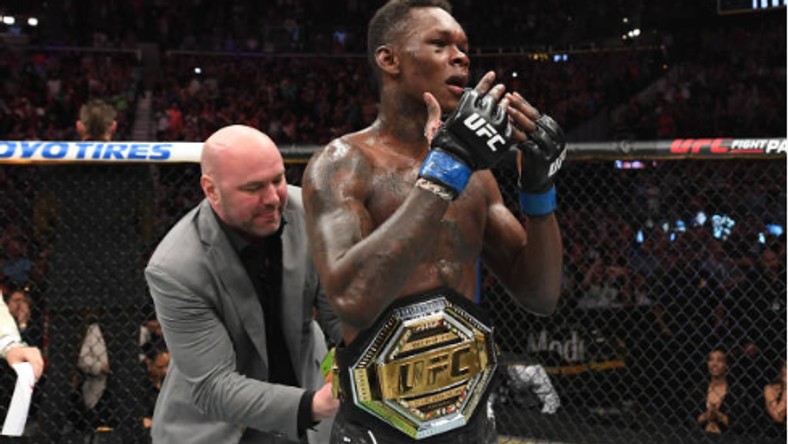 It was a thrilling fight at the State Farm Arena in Atlanta that had everyone on the edge of their seats as both fighters left each other bloodied and battered.
It was a show of skill, talent and toughness from the two fighters but it was Adesanya who was announced as the winner via unanimous decision (48-46, 48-46, 48-46) to win an interim championship belt.
The fight was intense from the first round but it was Gastelum who started the fiercer as he put Adesanya in defense mode.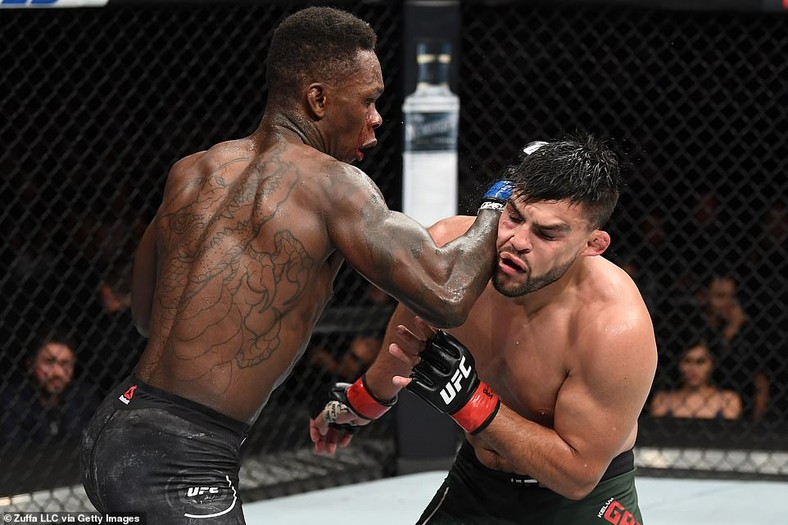 Israel Adesanya knocked out Kelvin Gastelum twice in the epic bout (Zuffa LLC via Getty Images)
Adesanya got Gastelum with a counter right punch that knocked down the American. Adesanya's intensity increased from that moment and he punched with much more consistency.
Gastelum, however, wasn't ready to give up yet and he returned fired up in round three although he couldn't land a punch on Adesanya.
In the fourth round, he continued with his intensity and knocked out Adesanya in the final minutes of that round.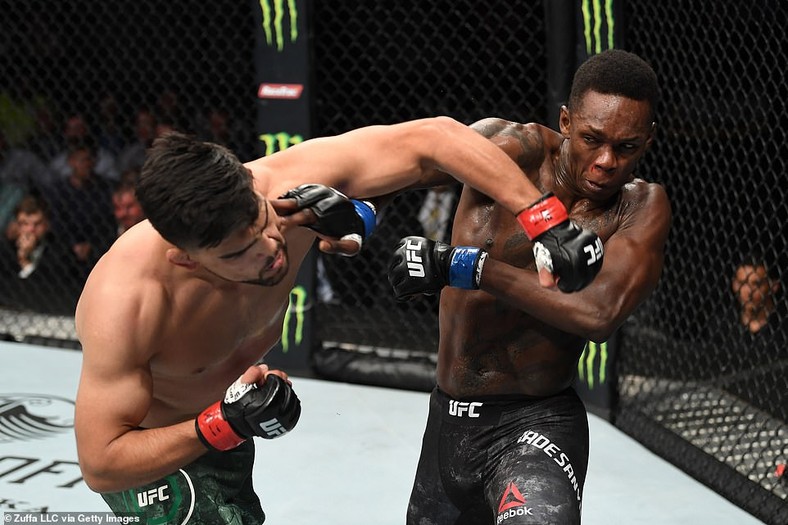 Kelvin Gastelum also knocked out Adesanya in the fourth round (Zuffa LLC vis Getty Images)
In round five, Gastelum attacked Adesanya more, looking for that takedown but the Nigerian countered smartly and with much agility.
In the final minutes of round five, it was Adesanya who attacked Gastelum with enthusiasm and he eventually dropped the American fighter with an elbow and he followed up with a ground-and-punch.
Gastelum wasn't out but at the end of the fifth round, Adesanya was declared the winner to remain undefeated in his professional career.
17-0 as professional and 6-0 in the UFC while this was just the second loss for Gastelum (15-4, 1 NC) since moving up the middleweight division.
"I was willing to die. We've lost teammates to this game," Adesanya said post-fight.
"They're not with us anymore. … But I knew I was willing to give it all and to leave it all in there."
The 29-year-old is now tipped to face undisputed champion Robert Whittaker in his next fight.
Adesanya was born in Lagos but moved to New Zealand with his parents. Although he left Nigeria at the age of 11, the now 29-year-old is very much in touch with his Nigerian roots.
He has 'Broken Native' tattooed across his chest coupled with a large map of Africa which serve as a reminder of his cultural heritage.
"I've got Africa stamped on my chest, and I've outlined Nigeria because that's my bloodline," he said in 2018.
With the UFC interim middleweight champion belt, Adesanya is now the second African-born champion in UFC history.
The first is another Nigerian-born fighter Kamara Usman who is the current UFC welterweight champion.
Pulse NG
Kofi Kingston becomes the first ever black man to emerge WWE champion
Kofi Kingston made history last night when he became the African-American world champions after he defeated Daniel Bryan for the WWE Championship at WrestleMania 35.
The WWE veteran and one-third of The New Day fought out of a long attempt from Bryan to worked the crowd into a frenzy. He reversed Bryan into a ground-and-pound sequence before returning the favor from moments earlier by holding Bryan's arms and ruthlessly kicking him to the face.
Kingston lined up and hit his Trouble in Paradise finisher to set off fireworks in the stadium shortly after the pin. The celebration sequence was one of the most memorable in recent history as Kingston's two sons joined him, along with Xavier Woods and Big E, in the center of the ring.