Neymar accused of rape: Brazilian footballer facing allegation of sexual assault, according to police report
Paris Saint-Germain footballer Neymar has been accused of rape by a woman, a Brazilian police document has revealed.
According to the report, a woman accused the Brazilian international of having sexual intercourse without her consent in Paris last month, before she flew back to Sao Paulo where she reported the allegation to police.
Neymar has not commented on the allegations, but his father and agent, Neymar dos Santos, has denied the claims and says that it is a "set-up" against the PSG star.
The document obtained by The Associated Press on Saturday says the incident took place on 15 May at 8:20pm in a hotel.
The woman went to police on Friday in Sao Paulo.
Neymar's representatives have not replied to a request for comment, but his father denied any wrongdoing by the player in a television interview.
"This is a tough moment. If we can't show the truth quickly it will be a snowball. If we have to show Neymar's WhatsApp messages and the conversations with this lady, we will," Neymar dos Santos told TV Band.
The woman says she and the Brazil star met in France after exchanging Instagram messages.
She told police a representative of the Paris Saint-Germain player named Gallo allegedly bought her tickets to Paris and booked her a room at the Hotel Sofitel Paris Arc Du Triomphe. She said Neymar arrived apparently drunk at the hotel.
The Sofitel hotel did not immediately respond to a request for comment.
The woman told police that Neymar arrived at the hotel that night "apparently drunk," and that they talked and "caressed."
"However, at some point, Neymar became aggressive, and through violence, practiced sexual intercourse against the will of the victim," the police report says.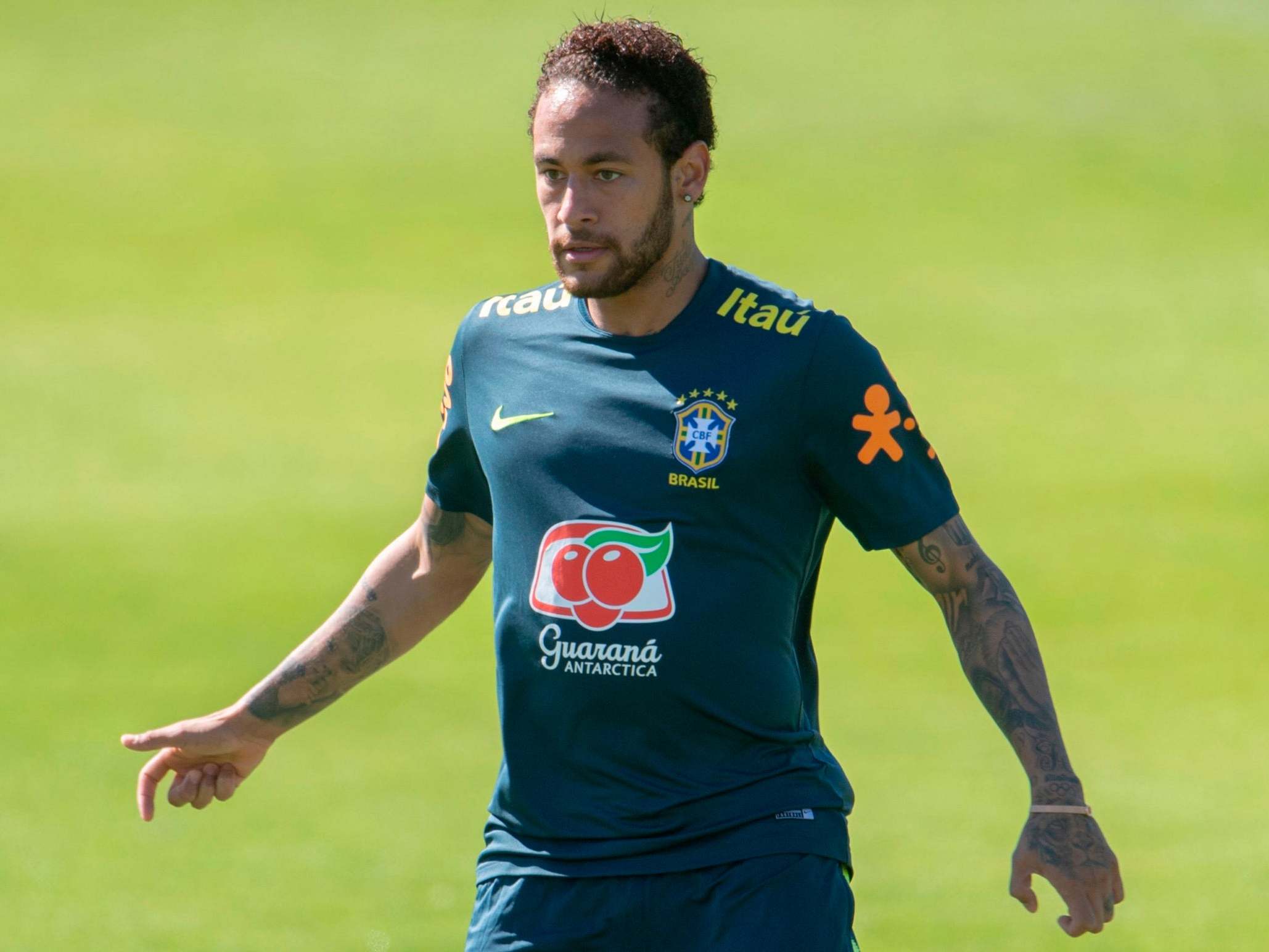 The woman told police she returned home to Brazil two days later without telling French police about the alleged rape because she was "emotionally shaken and afraid to register the facts in another country," according to the report.
Neymar is currently in Brazil, training with the national soccer team ahead of this month's Copa America. Late last month, the country's football federation replaced him as captain for the tournament with his Paris St Germain team mate Dani Alves.
Earlier in May, Neymar was banned for three matches by the French football authorities for hitting a fan after PSG's French Cup final loss to Rennes, and was also reportedly involved in a dressing room fracas with his PSG team mates.
Paris Saint-Germain did not immediately respond to a request for comment. Brazil's football federation (CBF) declined to comment.
'Racist insults are ignorance and can only make me stronger': Paul Pogba hits back at online trolls
Paul Pogba has hit back at 'ignorant' online trolls after suffering racist abuse on social media.
The French and Manchester United midfielder was subjected to numerous sickening comments after missing a penalty duringhis club's1-1 draw with Wolves last week.
The former Juventus midfielder has now lashed out at his trolls over the provocating comments.
Posting a photo with his young son in front of images of Martin Luther King and his late father, Fassou Antoine this afternoon (August 25), Pogba wrote:  'My ancestors and my parents suffered for my generation to be free today, to work, to take the bus, to play football. Racist insults are ignorance and can only make me stronger and motivate me to fight for the next generation.'
FIFA Ban: I've done nothing wrong – Siasia
Former Super Eagles coach Samson Siasia has expressed shock over his ban by FIFA and accused the world soccer ruling body of dishing out punishment without contacting him.
The former U-23 coach, in a swift reaction on social media following news of his ban, vowed to fight to clear his name.
He wondered how a person can be charged and found guilty of an allegation without being heard from.
He also dismissed claims by FIFA that a letter to that effect has been dispatched to him while re-echoing that he has not done anything wrong.
"I am shocked with FIFA ban, I was never questioned by FIFA.
"I don't know anything about this. I did nothing wrong and I have not received any letter from FIFA," he said.
Siasia, who led Nigeria's Olympic team to Silver Medal finish in 2016, insisted he was hearing about the allegation and the said decision for the first time.
There are strong indications that the former Super Eagles star who scored 16 goals in 51 appearances for the national team will appeal the decision.
Some say the 52 -year- old former Lokeren of Belgium striker may drag FIFA to Court of Arbitration for Sports (CAS).
The court has recently been inundated by cases involving fIFA and other stakeholders including Presidents of Football federations.
FIFA bans Siasia for life over bribe, match manipulation
Samson Siasia has been banned for life by FIFA after being found guilty over bribery and manipulation of matches.
The former Super Eagles of Nigeria coach has been banned from all football-related activities over attempts to rig matches at international level.
The world football's governing body said it opened disciplinary proceedings after a vast investigation into various international matches that Singaporean Wilson Raj Perumal, a convicted match-fixer, had attempted to manipulate for betting purposes.
"The adjudicatory chamber of the independent Ethics Committee has found Mr. Samson Siasia, a former official of the Nigeria Football Federation, guilty of having accepted that he would receive bribes in relation to the manipulation of matches in violation of the FIFA Code of Ethics," FIFA statement said.
"The formal ethics proceedings against Mr. Siasia were initiated on 11 February 2019 and stem from an extensive investigation into matches that Mr. Wilson Raj Perumal attempted to manipulate for betting purposes.
"This large-scale investigation was conducted by FIFA via its competent departments and in cooperation with the relevant stakeholders and authorities.
"In its decision, the adjudicatory chamber found that Mr. Siasia had breached art. 11 (Bribery) of the 2009 edition of the FIFA Code of Ethics and banned him for life from all football-related activities (administrative, sports or any other) at both national and international level.
"In addition, a fine in the amount of CHF 50,000 has been imposed on Mr. Siasia. The decision was notified to Mr. Siasia today, the date on which the ban comes into force."