Lagos Socialite, Sir K Lamina, Sent To Prisons For Alleged Robbery, Murder
Lagos socialite and suspected land grabbing kingpin, Chief Kamorudeen Olaseni Lamina, popularly called 'Sir K Oluwo', has been ordered to be remanded in prison custody by a Chief Magistrate Court in Sagamu, Ogun State.
P.M.EXPRESS learnt that Lamina was arraigned over allegations of terrorising land owners in some communities around Ikorodu and Shagamu axis of South-western part of Nigeria.
The accused is facing a four-count charge of attempted murder, conspiracy to murder, murder, unlawful possession of firearms and armed robbery in suit number MSH/289c/2019, and will be remanded in prison pending further notice pending the Attorney-General's legal advice.
The charge reads: "That you, Otunba Kamorudeen Lawal (m) and others still at large with those in charge number MSH/82C/2011 on or before the 9th of March, 2011 at Ologbon Odukosi village, in the Sagamu Magisterial District, did conspire together to commit felony to wit; armed robbery and thereby committed an offence contrary to and punishable under section 6(b) of the robbery and firearms (special provision) acts laws of Federation of Nigeria, 2004."
The second charge reads, "That you, Otunba Kamorudeen Lamina and others still at large, with those in charge number MSH/82C/2011 on the same day, time and place in the aforementioned magisterial district, did rob one Saka Gbemisola, Kareem Bello and others of the sum of One Hundred and Eighty Thousands Naira (N180,000.00), one Astor Electronic Teoolita with its tripod valued Thirty Thousand Naira (N30,000.00, gsm handset, cloths, shoes, wrist watches and identity cards value yet to be estimated while armed with guns, axes, cutlasses, knives and thereby committed an offence punishable under section 1(2)(a) of the robbery and firearms (special provision) Act Laws of Federation of Nigeria, 2004."
The third charge reads, "That you, Otunba Kamorudeen Lamina and others still at large, with those in charge number MSH/82C/2011 on the same date, time and place aforementioned magisterial district did unlawfully conspire to commit felony to wit; murder and thereby committed an offence contrary to and punishable under section 324 of the criminal code laws of Ogun State of Nigeria, 2006."
The fourth charge stated that, "That you, Otunba Kamorudeen Lamina and others still at large, with those in charge number MSH/82C/2011 on the same date,time and place in the aforementioned magisterial district, did unlawfully kill Akeem Adegbaru (m), Fatai Adeleye (m) and Adebisi Adelakun (m) by matcheting them with cutlasses and thereby committed an offence contrary to section 316 and punishable under section 319 of the criminal code of laws of Ogun State of Nigeria, 2006."
The defence counsel, Bayo Omotuburuwa, had earlier prayed the court not to grant the ex-parte application which was placed before the court by the Prosecuting Counsel, Adeola Adeleye.
Due to this, the case was stepped down around 11.00 a.m., after which the court re-conveyed at 01.20 p.m.
The defence counsel also prayed the court to grant his client bail, quoting Section 307 of the Administration of Criminal Justice (ACJ) to support his argument, but the court refused the prayer.
The prosecuting counsel, however, argued that nothing is stopping the ex-parte application from being heard in the court, adding that an application that is not challenged must be heard and the ex-parte application must be heard.
He added, "The court has the final decision to either grant the remand order or not, and the respondent has no order challenging the ex-parte application."
The chief magistrate, B.J Ojikutu, in his ruling, denied the bail application by the accused counsel and ordered that the accused be remanded in prison, pending the Attorney-General's legal advice.
He adjourned further hearing to September 26.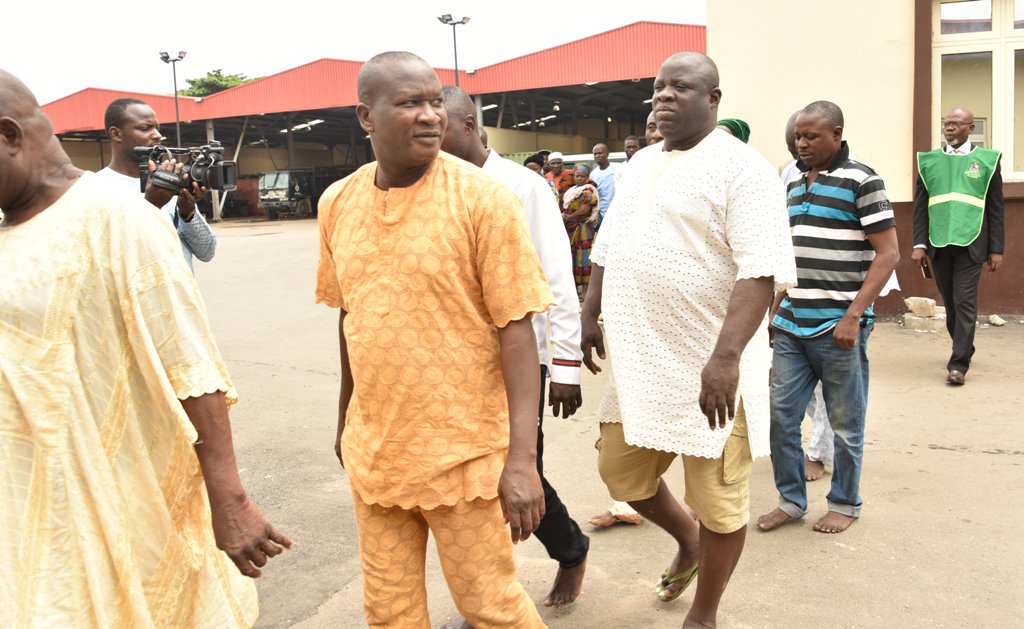 It would be recalled that in June 2017, Lamina with others were arrested and arraigned at the Lagos State Special Offences Court for violently grabbed lands belonging to some residents of Ikorodu and adjourning communities.
After nearly a month in detention, he was granted bail and later fled Lagos State.
It was learnt that Sir K then shifted his base to Ogun State with minor or no law against land grabbing until about a year ago.
His alleged atrocities of terrorising innocent people of some communities got to the Ogun State task force on land grabbing via scores of petitions and SOS messages by some victims.
He was later arrested and now arraigned.
More Incriminating Evidences Presented Against Tonto Dikeh + Why She Is Still In Dubai Prison
Latest information about the embattled Nollywood star actress, Tonto Dikeh, who was reportedly arrested by the police in Dubai, revealed that she had not been deported to Nigeria, but that she was still in Dubai Prison.
The stylish mother of one was said to still being held in Dubai detention cell for further investigation.
While little has been officially heard from Tonto on social media except for some few postings from her best friend, Idris Okuneye aka Bobrisky, it was gathered that Tonto and Bobrisky were trying very hard to cover up their tracks.
Tonto was reportedly arrested recently, when she attended an event in Dubai.
She was said to have been denied entry by security personnel and she allegedly called them untoward names.
She was said to have spent the night in prison.
Tonto, who was in Dubai to attend the One Africa Music Fest and Bamteddy wedding, could no longer attend these events since she was in detention.
"Yes, she hasn't been released but still in detention," a source close to the Nollywood actress revealed.
But Tonto was said to have released a video debunking any news of detention or deportation through Bobrisky.
Sources explained further that:
"First, Tonto is not the type to use that kind of video to debunk allegations of detention and deportation.
She would have used a more beautiful background wearing gorgeous clothes and displaying affluence. That was a damage control video she shared through Bobrisky. Tonto was looking like a tart! She wasn't wearing make-up and looking like a prisoner in one small room! Anyways, in the video, there was no address about or her arrest. The Tonto we knew would have tore whoever wrote that story into shreds.
"Moreover, the attempts by Bobrisky to prove that Tonto Dikeh is still in Dubai and vacationing are not adding up.
Imagine the sudden disappearance of Tonto's phone! Tonto's phone lost its password and she opened another new page @king_wigocharity, on Instagram! Sharing a video to that effect, Tonto, who was not gorgeously dressed like her usual old self wears a funny make-up and explains what went wrong with her old IG account.
Who is fooling who? She said she is still in Dubai but her password is still in Africa! In this IT age? The video looks so stupid!
Meanwhile, before the new page, she had posted many photos from Dubai on the old page @tontolet which has over 5million followers.
It was on her old page she posted her 'fake gift' from Timi Frank. She even bought a new phone to run the new page! As a matter of fact, she removed the nylon seal from the cover of the phone!"
Wondering what went wrong with Tonto and Dubai security personnel?
"After her arrest and her hotel room was searched, they found out that she came to Dubai with hard drugs which she must have been taking," sources alleged.
The worry is now her little boy, King Andre, who is said to be in the care of a nanny in Abuja.
Already, Bobrisky is taking the pains to upload on the new page that has been created.
We were informed that there was no hope that the actress would be released soon.
Revealed: How Jailed Fraudster Masterminded $1 Million Internet Scam From Prison
The Economic and Financial Crimes Commission, EFCC, has revealed how a jailed fraudster, Hope Olusegun Aroke masterminded an internet scam worth $1 million from prison.
Aroke is a convicted internet scammer, who is currently serving 24 years jail term.
The Lagos Zonal office of the commission revealed recently that it discovered that Aroke, a convicted internet fraudster currently serving a 24 years jail term was still in active communication with other high valued targets.
The EFCC said in a statement that the high valued targets were currently being investigated by the Commission for various offences relating to computer fraud and money laundering.
"Investigation revealed that he masterminded the commission of internet scam worth over $1,000,000 (One million Dollars) whilst serving his jail term," the EFCC said.
Aroke was alleged to have pulled the heist right from prison using a network of accomplices, some of them targets of fraud and money laundering investigation.
The lid on his latest fraud exploits from the bowels of the Maximum Correctional Centre was reportedly blown following intelligence received by the EFCC.
What surprised the EFCC was how it was possible for the convict to continue to ply his ignoble trade of Internet fraud from prison.
Preliminary investigation revealed that the convict, against established standard practice, had access to internet and mobile phone in the Correctional Centre where he is supposed to be serving his jail term.
It was more surprising that Aroke got himself admitted to the Nigeria Police Hospital, Falomo, Lagos for an undisclosed ailment and from the hospital, he would move out to lodge in hotels, meet with his wife and two children and attend other social functions.
The circumstance of his admission into the hospital and those who aided his movement from the hospital to hotels and other social engagements, are already being investigated by the EFCC.
Investigations revealed that Aroke used a fictitious name, Akinwunmi Sorinmade, to open two accounts with First Bank Plc and Guaranty Trust Bank Plc.
He also reportedly bought a property at Fountain Spring Estate, Lekki Lagos in 2018 for N22 million and a Lexus RX 350 2018 model registered in his wife's name, Maria Jennifer Aroke.
The convict was also said to be in possession of his wife's bank account token in prison, which he used to freely transfer funds.
Further investigation revealed that, while his trial was ongoing in 2015, Aroke bought a four bedroom duplex at Plot 12, Deji Fadoju Street, Megamounds Estate Lekki County Homes , Lekki for N48 million.
Aroke was one of two Malaysia-based Nigerian undergraduate fraudsters arrested by the EFCC in the closing weeks of 2012 at the 1004 Housing Estate, Victoria Island, Lagos following a tip-off.
The indigene of Okene, Kogi State had claimed to be a student of Computer Science at the Kuala Lumpur Metropolitan University, Malaysia. But the Commission's investigation fingered him as the arrow head of an intricate web of internet fraud scheme that traverse two continents.
When Aroke was arrested, a search conducted by EFCC operatives on his apartment led to the recovery of several items such as laptops, iPad, traveling documents, cheque books, flash drives, internet modem, and three exotic cars – a Mercedes Benz Jeep, One 4Matic Mercedes Benz Car and a Range Rover Sport SUV.
He was eventually convicted by Justice Lateefa Okunnu of a Lagos State High Court on two counts of obtaining money by false pretence, cheque cloning, wire transfer and forgery.
He was sentenced to 12 years imprisonment on each of the two counts.
Dad demands sex before paying my school fees, impregnated me thrice — Pastor's daughter
A 20-year-old lady, Fortune, has narrated her ordeal in the hands of her father, a pastor in Uyo, Akwa Ibom State.
Fortune said her father, the Presiding Pastor of Mount Zion Light House Full Gospel Church, Obio Imo Lane, Uyo, Akwa Ibom State, Apostle Williams Okon Bassey, started having sex with her when she was 13 years old.
She said without giving in to his demand for sex, he would not pay her school fees. Bassey, whom Fortune said had impregnated her thrice, has been arrested by operatives of the Akwa Ibom State Police Command.
The state Police Public Relations Officer, Odiko MacDon, said: "The victim stated that her father started having sexual intercourse with her at the age of 13.
"The continuous sexual assault led her to become pregnant on three different occasions and the pregnancies were aborted by her mother.
"She further revealed that the first time her father defiled her was in the church vestry.
"He threatened to place a curse on her if she dares tell anyone about his escapades.
"He also demands sex before paying her school fees or catering for her needs." MacDon also said October 31, one Anwanga Essien Udo of 7, Itiam Street, Uyo, aged 33, a Pastor with Restoration Bible Church, was arrested for having unlawful carnal knowledge of his 10-year-old step-daughter(name withheld).
He added: "When she was left alone with him, rather than be a father to her, he opted to turn her to a sex-machine."