Israel Adesanya beats Kelvin Gastelum in epic five-round bout to claim UFC interim middleweight title at UFC 236
Nigerian-born fighter Israel Adesanya knocked out his American opponent Kelvin Gastelum twice in the main event of the UFC 236 and claimed the UFC interim middleweight title after he was announced the winner via unanimous decision in an epic five-round fight that would go down as a classic.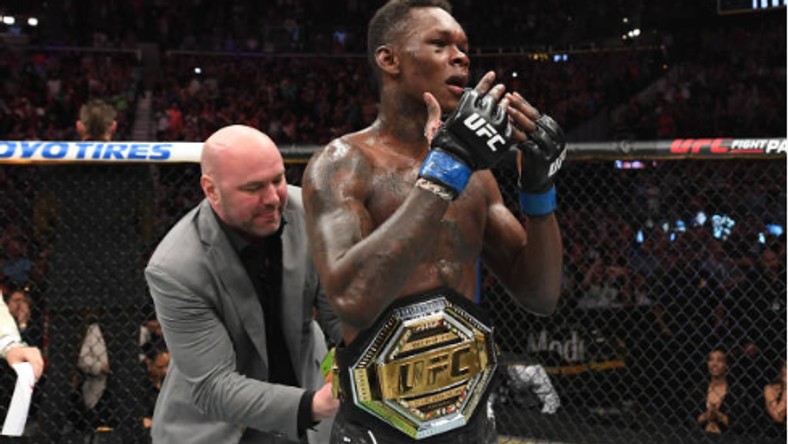 It was a thrilling fight at the State Farm Arena in Atlanta that had everyone on the edge of their seats as both fighters left each other bloodied and battered.
It was a show of skill, talent and toughness from the two fighters but it was Adesanya who was announced as the winner via unanimous decision (48-46, 48-46, 48-46) to win an interim championship belt.
The fight was intense from the first round but it was Gastelum who started the fiercer as he put Adesanya in defense mode.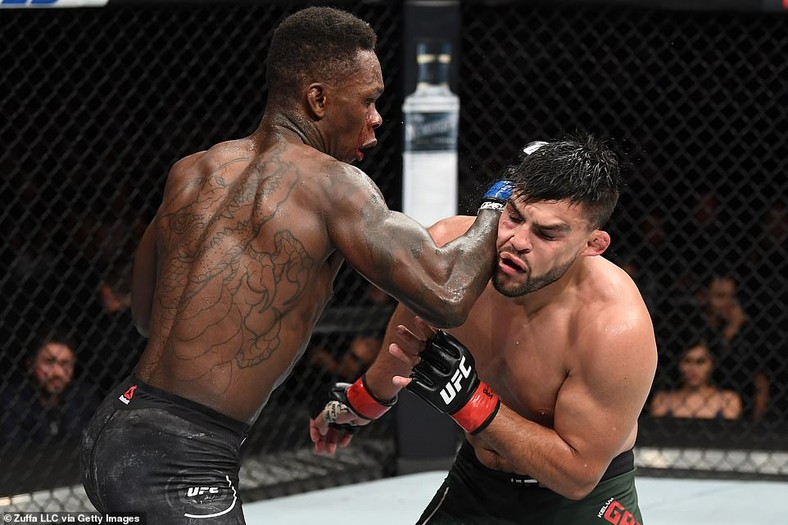 Israel Adesanya knocked out Kelvin Gastelum twice in the epic bout (Zuffa LLC via Getty Images)
Adesanya got Gastelum with a counter right punch that knocked down the American. Adesanya's intensity increased from that moment and he punched with much more consistency.
Gastelum, however, wasn't ready to give up yet and he returned fired up in round three although he couldn't land a punch on Adesanya.
In the fourth round, he continued with his intensity and knocked out Adesanya in the final minutes of that round.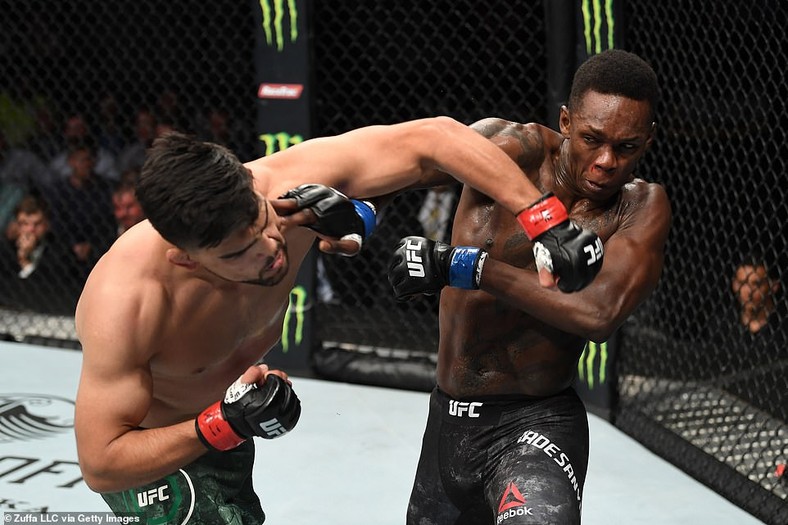 Kelvin Gastelum also knocked out Adesanya in the fourth round (Zuffa LLC vis Getty Images)
In round five, Gastelum attacked Adesanya more, looking for that takedown but the Nigerian countered smartly and with much agility.
In the final minutes of round five, it was Adesanya who attacked Gastelum with enthusiasm and he eventually dropped the American fighter with an elbow and he followed up with a ground-and-punch.
Gastelum wasn't out but at the end of the fifth round, Adesanya was declared the winner to remain undefeated in his professional career.
17-0 as professional and 6-0 in the UFC while this was just the second loss for Gastelum (15-4, 1 NC) since moving up the middleweight division.
"I was willing to die. We've lost teammates to this game," Adesanya said post-fight.
"They're not with us anymore. … But I knew I was willing to give it all and to leave it all in there."
The 29-year-old is now tipped to face undisputed champion Robert Whittaker in his next fight.
Adesanya was born in Lagos but moved to New Zealand with his parents. Although he left Nigeria at the age of 11, the now 29-year-old is very much in touch with his Nigerian roots.
He has 'Broken Native' tattooed across his chest coupled with a large map of Africa which serve as a reminder of his cultural heritage.
"I've got Africa stamped on my chest, and I've outlined Nigeria because that's my bloodline," he said in 2018.
With the UFC interim middleweight champion belt, Adesanya is now the second African-born champion in UFC history.
The first is another Nigerian-born fighter Kamara Usman who is the current UFC welterweight champion.
Pulse NG
LMC fines Kano Pillars N8m, hands Rabiu Ali 12 match ban
The League Management Company on Wednesday announced a number of sanctions against the Kano Pillars Football Club over Monday's incident involving their supporters and players.
Salihu Abubakar, LMC's Chief Operating Officer said in a statement that the sanctions were as a result of crowd disturbances and harassment of match officials.
The misdemeanour was committed by Kano Pillars' fans and players during and after one of Match Day 4 fixtures at the Nigeria Professional Football League Championship Playoffs in Lagos.
"Kano Pillars have been fined the sum of N8 million, while their captain, Rabiu Ali, has been banned from all NPFL activities and matches for a period of 12 matches," Abubakar said.
The News Agency of Nigeria reports that supporters and fans believed to belong to the Kano side had invaded the pitch, damaged perimeter fences and advertising panels.
They had also hauled objects at the VIP stands at the end of the fixture between Kano Pillars and Rangers International which ended 1-1.
LMC, in a summary jurisdiction notice, charged Kano Pillars with four breaches of the Framework and Rules of the NPFL including breaches of Rule B13.18, C9, C1.1.
Ali was charged with accosting the match referee and, in so doing, he had incited others to commit acts of violence and misconduct in breach of Rule C1.3
The notice to Ali read, "Consequently, and taking into consideration your role as the captain of the team, by which your conduct is deemed to be an aggravated breach with a view to imposing more severe sanctions pursuant to Rule C19, the LMC intends to exercise its summary jurisdiction.
"By this, LMC will impose on you the following sanction: a ban from all NPFL matches and activities for a period of 12 matches, commencing immediately".
In the charge against Kano Pillars, the breaches covered offences such as the hauling of objects towards the field of play by some of their supporters in violation of Rule B13.18.
Kano Pillars were also charged for failing to control and ensure proper conduct of their players and officials who accosted the match referee in protest.
This constituted a breach of Rule C9.
The third charge read, "you are in breach of Rule B13.18 of the Framework and Rules of the NPFL.
"This is because on Monday, immediately after your NPFL Championship Playoff Match against Rangers International, some of your supporters encroached onto the field of play, pursuing match officials".
The fourth count was hinged on the violent conduct of the supporters in a manner capable of bringing the league to disrepute.
This also includes injury to spectators and damage to facilities and equipment in violation of Rule C1.1.
It is an act which is punishable by virtue of B15.17 and B13.23 of the Framework and Rules of the NPFL.
For the first three breaches, the LMC fined the club N1 million for each count and N5 million for the breach of Rule C1.1.
Furthermore, the club have been ordered to play their next three home matches behind closed doors.
They also stand to forfeit three points in the new season, 2019/2020, should they be found in further breach of the charges during the duration of the new season.
The player and club are required by the rules to accept or appeal the charges and sanction in writing within 48 hours.
Mastercard cancels advertising campaign for Neymar after rape accusation
Mastercard has canceled an advertising campaign featuring Brazilian football star Neymar, after a woman accused him of raping her in a Paris hotel, a newspaper in Sao Paulo reported on Thursday.
The newspaper, O Estado de S.Paulo, reported on its website that Mastercard said in a statement it was suspending its use of Neymar in advertising until the situation is "cleared up''.
Neymar denies the allegation of rape and has claimed the woman was trying to extort him.
The woman appeared on Brazilian TV on Wednesday and said the athlete did rape her.
A police report seen by Reuters over the weekend showed that a woman had accused the 27-year-old Neymar of raping her at a Paris hotel last month.
Sao Paulo police are investigating the accusation.
Following media reports on the matter, Neymar posted a long video on Instagram, in which he denied the accusations.
He claimed he was a victim of extortion, and shared WhatsApp messages he had exchanged with the alleged victim, including racy photos he had received.
That led police in Rio de Janeiro to open an investigation into whether Neymar had committed a crime by posting those intimate pictures online.
Neither a spokeswoman for Neymar nor Mastercard immediately responded to requests for comment.
Police arrests CAF president in France
Ahmad Ahmad, president of Confederation of African Football (CAF), has been arrested in Paris, capital of France.
According to Jeune Afrique, Ahmad was picked up around 8:30 am at the Berri Hotel in Paris, where he was staying ahead of the FIFA congress.
It said the arrest may be related to the alleged misappropriation and corruption involving French company, Tactical Steel.
Before he was fired in April, Amr Fahmy, former secretary-general of the confederation, had accused Ahmad of corruption.
Fahmy in a document sent to FIFA investigations committee accused the president of costing CAF an additional $830,000 because he ordered equipment through Tactical Steel.
Ahmad had defended himself and gave the assurance that all decisions were transparent.
Sabine Seillier, president of Tactical Steel, however, insisted that her company won the contract on a transparent basis.
She said her company was the only one that could guarantee delivery of the equipment sought in a tight timeframe of three weeks.
When she was questioned if Tactical Steel was been involved in kickbacks to Ahmad or his associates, Seillier replied: "Absolutely not. Tactical Steel complies with French law."
There are reports that Seiller's husband is a friend of an acquaintance of Ahmad.
Following his arrest, Amaju Pinnick, the vice-president, will assume his duties for a transitional period of four months before convening an elective special assembly.