Israel Adesanya beats Kelvin Gastelum in epic five-round bout to claim UFC interim middleweight title at UFC 236
Nigerian-born fighter Israel Adesanya knocked out his American opponent Kelvin Gastelum twice in the main event of the UFC 236 and claimed the UFC interim middleweight title after he was announced the winner via unanimous decision in an epic five-round fight that would go down as a classic.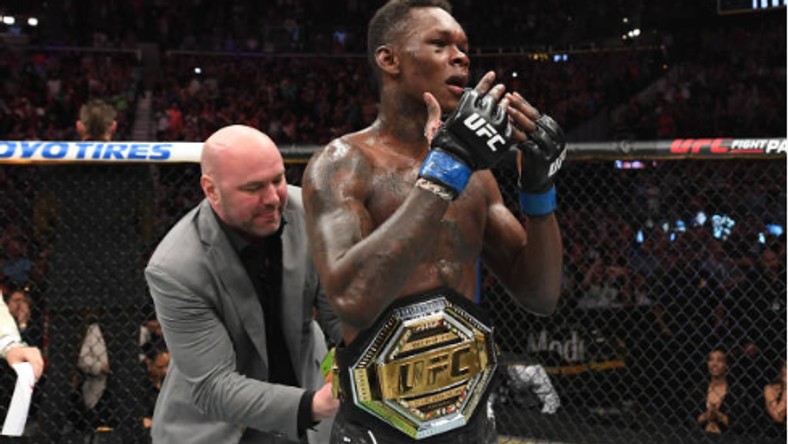 It was a thrilling fight at the State Farm Arena in Atlanta that had everyone on the edge of their seats as both fighters left each other bloodied and battered.
It was a show of skill, talent and toughness from the two fighters but it was Adesanya who was announced as the winner via unanimous decision (48-46, 48-46, 48-46) to win an interim championship belt.
The fight was intense from the first round but it was Gastelum who started the fiercer as he put Adesanya in defense mode.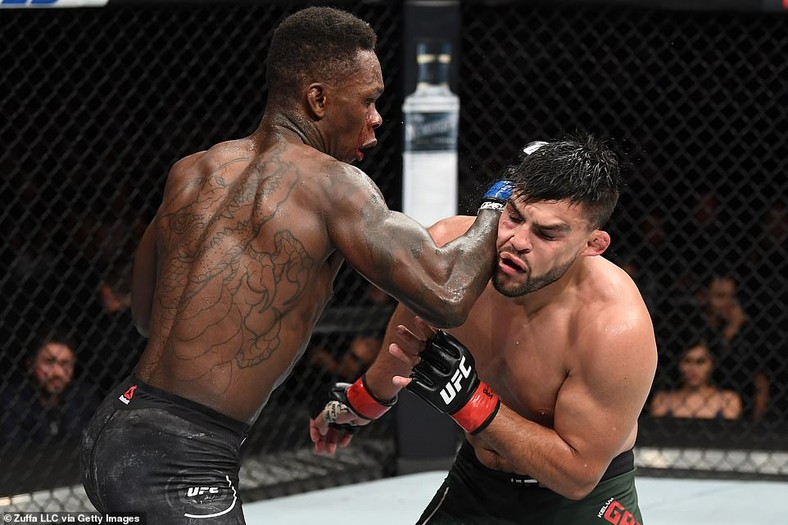 Israel Adesanya knocked out Kelvin Gastelum twice in the epic bout (Zuffa LLC via Getty Images)
Adesanya got Gastelum with a counter right punch that knocked down the American. Adesanya's intensity increased from that moment and he punched with much more consistency.
Gastelum, however, wasn't ready to give up yet and he returned fired up in round three although he couldn't land a punch on Adesanya.
In the fourth round, he continued with his intensity and knocked out Adesanya in the final minutes of that round.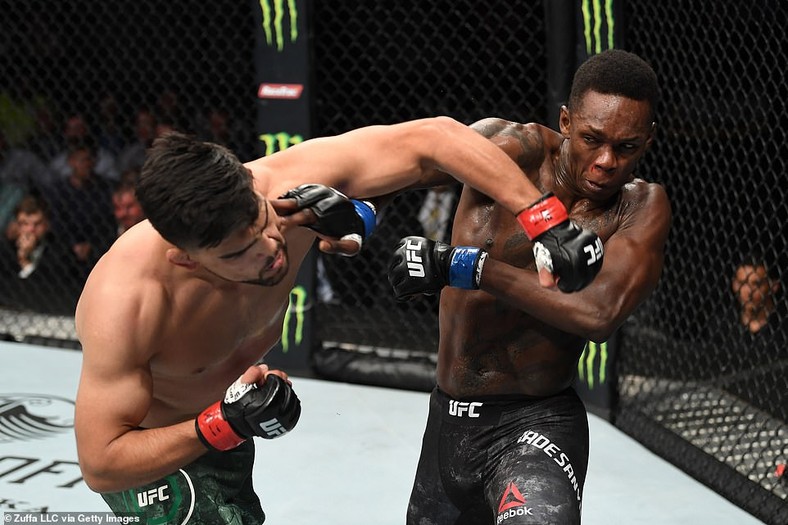 Kelvin Gastelum also knocked out Adesanya in the fourth round (Zuffa LLC vis Getty Images)
In round five, Gastelum attacked Adesanya more, looking for that takedown but the Nigerian countered smartly and with much agility.
In the final minutes of round five, it was Adesanya who attacked Gastelum with enthusiasm and he eventually dropped the American fighter with an elbow and he followed up with a ground-and-punch.
Gastelum wasn't out but at the end of the fifth round, Adesanya was declared the winner to remain undefeated in his professional career.
17-0 as professional and 6-0 in the UFC while this was just the second loss for Gastelum (15-4, 1 NC) since moving up the middleweight division.
"I was willing to die. We've lost teammates to this game," Adesanya said post-fight.
"They're not with us anymore. … But I knew I was willing to give it all and to leave it all in there."
The 29-year-old is now tipped to face undisputed champion Robert Whittaker in his next fight.
Adesanya was born in Lagos but moved to New Zealand with his parents. Although he left Nigeria at the age of 11, the now 29-year-old is very much in touch with his Nigerian roots.
He has 'Broken Native' tattooed across his chest coupled with a large map of Africa which serve as a reminder of his cultural heritage.
"I've got Africa stamped on my chest, and I've outlined Nigeria because that's my bloodline," he said in 2018.
With the UFC interim middleweight champion belt, Adesanya is now the second African-born champion in UFC history.
The first is another Nigerian-born fighter Kamara Usman who is the current UFC welterweight champion.
Pulse NG
FirstBank Georgian Cup Hits The Centenary Mark, A Possible World Record In Sports Sponsorship
In furtherance of its commitment to the growth and development of sports, nation building and the economy at large, First Bank of Nigeria Limited has announced its sponsorship of the Georgian Cup of the Kaduna Polo Tournament for the 100th consecutive year, possibly the longest running sports sponsorship in the world and a Guinness Book of Records potential. The 2019 edition of the epoch making sports championship runs from October 12 – 20, 2019 at the Kaduna Polo Club, Murtala Mohammed Square, Kaduna.
The Kaduna Georgian Cup Centenary Polo Tournament commenced in 1919, with FirstBank sponsoring the sports tournament for a 100 years. The Cup which was donated by the Bank to the Kaduna Polo Club, is the oldest and most respected Polo trophy in West Africa.

The 2018 edition of the tournament was won by team El-Amin, also billed to participate in the 2019 edition to defend its trophy, contested by other teams; Rubicon, Imani, Malcomines, Lintex Agad. A total of 45 teams are billed for the 2019 tournament.

Speaking on FirstBank's unwavering centenary sponsorship of the Tournament, the President, Kaduna Polo Club, Alhaji Suleman Abubakar said "the Georgian Cup Polo Tournament is indeed the Premier Polo Tournament in the country and it has proudly birthed many other sporting events across the country as well as the West African sub region as a whole. We are honoured to record such a milestone with FirstBank since the inception of the tournament 100 years ago.

"Indeed, FirstBank remains a noble brand close to our heart at the Kaduna Polo Club and the tournament has indeed been a catalyst of socio-economic growth of Kaduna and the nation as a whole" he concluded.

FirstBank's sponsorship of the Georgian cup is perhaps the longest standing sports sponsorship in the world, a reflection of a long-lasting partnership that aligns with heritage, shared values, elite performance and quality, all attributes worthy of celebration. This record sponsorship has been filed by the Kaduna Polo Club for consideration by the Guinness Book of World Records under the longest main sponsorship of a sporting world championship title.

Expressing the Bank's delight on the sponsorship, the Group Head, Marketing & Corporate Communications, First Bank of Nigeria Limited, Folake Ani-Mumuney said "2019 is indeed an eventful year for us and one of the many high-points since we were founded 125 years ago. Part of our excitement stems from the pride we feel at having supported the Georgian Cup Polo Tournament for 100 years consistently. We are indeed proud to achieve this feat as it reinforces our leadership role as an institution committed to the continued growth and development of sports and the economy at large. The Georgian Cup Polo Tournament is one of the many heritage sporting sponsorships supported by FirstBank over the years. Another example is the FirstBank 58th Lagos Amateur Golf Open tournament, in partnership with Ikoyi Club 1938 holding in November this year which we have also supported for 57 years. We dare say perhaps another record in sports sponsorship"
This unprecedented Polo extravaganza boasts notable players such as Chris Mckenzie, the best South African polo player; Max Charlton, the Best British polo player as well as other top Argentine players in attendance amongst many other professionals.
US boxer, Patrick Day in coma after brutal knockout
27-year-old American boxer, Patrick Day has been hospitalized after suffering a brutal knockout during a fight with 21-year-old unbeaten Charles Conwell in a super welterweight bout in Chicago on Saturday October 12.
ESPN reported that Patrick Day had an emergency brain surgery and currently in the intensive care unit following a seizure he suffered after being knocked out.
The Athletic's boxing expert Mike Coppinger tweeted at the time that "Day was unconscious after [his] head hit the mat," adding that Chris Mannix on DAZN said an "oxygen mask was applied as he left [the] ring on a stretcher." A breathing tube was used at hospital.
Sharing an update about their boxer, Matchroom Boxing who organised the event said Day was "taken directly to hospital".
Speaking after the fight, Conwell who dropped Day in the fourth and eighth rounds and knocked him out with a massive left hook in the 10th round told IFL TV;
"I give my blessings and concerns to him and his team. I hope he is OK. I know he is a great person."
It was further learnt that the fight was on the undercard of Russian Dmitry Bivol's World Boxing Association light-heavyweight world title defense against Lenin Castillo.
Neymar injured as Brazil are held to a 1-1 draw by Nigeria in Singapore
The Super Eagles of Nigeria on Sunday afternoon held the Seleccao national team of Brazil to a 1-1 draw in front of tens of thousands of fans in Singapore's national stadium.
The Super Eagles were without first team players Oghnekaro Etebo, Keneth Omeruo and Samuel Kalu while Brazil were without Liverpool keeper Allison Becker .
Nigeria first took the lead on the counter attack with Glasgow Rangers of Scotland striker Aribo quick to blast through in the Brazil 18 yard box in the 35th minute to the surprise of neutral fans who expected a stroll for the Brazilian team even after star player Neymar Jr walked off the field in the 12th minute with a suspected foot injury.
Brazil then levelled after the break through Real Madrid midfielder Casemiro who blasted a rebound after Maquinhos had headed off the woodwork during a spell of pressure against the African team.
The match ended as a draw with both teams reshuffling the line-up and Nigeria will surely see this as a confidence builder after the 2-2 draw against Ukraine last time around.
More photos below.