I laughed when I read the story that I gave Israel ultimatum to return Nnamdi Kanu – Lai Mohammed
Minister of Information, Alhaji Lai Mohammed, on Wednesday dismissed social media report that he gave Israel ultimatum over the reappearance of the leader of the Indigenous People of Biafra (IPOB), Nnamdi Kanu, in that country.
The IPOB leader, who was sighted in Israel last week, had pledged to return to Nigeria soon, after his unceremonious disappearance from the country for about 13 months.
The minister, who fielded questions from State House correspondents, said: "I was in London when I heard the story about Nnamdi Kanu surfacing in Israel. I was not in a position to make any statement.
"But before I knew it, within a few hours, I saw my picture with a story saying that I had actually given Israel ultimatum to return Nnamdi Kanu otherwise, we will send them missiles.
"I just laughed. It speaks to what we are talking about fake news because it is probably the biggest threat in the run-up to the elections.
"Having said that I have nothing more to add, to the issue of Nnamdi Kanu.''
According to him, the appropriate authorities in the country will speak on the issue at the appropriate time.
"At the appropriate time, the various authorities will make a statement about the issue of Kanu,'' he said.
It would be recalled that the Presidency had on Tuesday, October 23 dismissed the Kanu's outburst and assured all Nigerians that there was no reason to worry about the hollow outburst by the IPOB leader.
Malam Garba Shehu, the Senior Special Assistant to the President on Media and Publicity, who gave the assurance in a statement in Abuja, restated that Nigeria under President Muhammadu Buhari was strong enough to defend its territory against any threat.
He said: "Instead, we see the re-enactment of his bizarre, episodic threat as a mere distraction which will not be allowed to detract from the existing cordial relationships between Nigeria and other countries.''
According to him, the Buhari administration is in constant touch with other friendly nations and has the best assurances that they would continue to reciprocate the respect Nigeria has for the sovereignty of their nations.
Reinhard Bonnke Dies At 79
German Pentecostal evangelist, Reinhard Bonnke who is principally known for his gospel missions throughout Africa is dead aged 79. A post on his official Facebook page explained that he passed away peacefully and was surrounded by his family. "It is with sorrow that the Bonnke Family would like to announce the passing of our beloved husband, father, and grandfather, Evangelist Reinhard Bonnke," the statement read.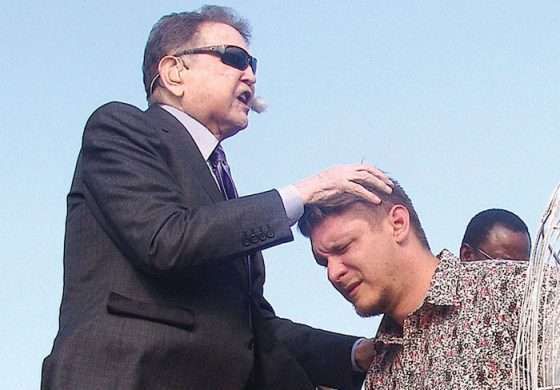 "He passed away peacefully, surrounded by his family, on December 7, 2019. For the past 60 years, he has preached the glorious Gospel of Jesus throughout the entire world.
"We want to thank you on behalf of him and our family, for your kind love and unwavering support, which enabled him to preach the matchless message of salvation to countless people.
Former Japanese Prime Minister, Yasuhiro Nakasone dies at the age of 101
Former Japanese Prime Minister Yasuhiro Nakasone has died at the age of 101. Nakasone was Japan's prime minister from November 1982 to November 1987.
According to Xinhua news, sources informed that Nakasone, a politician known for his support of expanding Japan's defense provisions, passed away at a hospital in Tokyo just after 7:00 a.m. local time Friday.
Widely regarded as a strong figure in politics, the former Japanese leader, in terms of diplomacy, was also known to have a close, first name-basis relationship with former U.S. President Ronald Reagan during the 1980s.
During his tenure, he was an advocate for and worked towards the privatization of Japan's national railway system and was also a proponent of revising Japan's pacifist Constitution.
Born in Gunma Prefecture's Takasaki City in 1918, Nakasone entered politics in 1947, securing a seat in Japan's House of Representatives, or lower house of parliament, and went on to hold his seat for 20 successive elections.
Three men wrongly jailed for life, set free after 36 years in prison
Three Baltimore men who were wrongly imprisoned for 36 years in Maryland, United States have been set free after a review of the murder case they were prosecuted for.
The three men identified as Alfred Chestnut, Ransom Watkins and Andrew Stewart, were reportedly teenagers when they were sentenced to life in prison in 1984. They were accused of being responsible for the murder of 14-year-old DeWitt Duckett who was shot in the neck on his way to class at a Baltimore junior high school and also stealing his Georgetown University jacket.
They were released from custody on Monday November 25, hours after a judge cleared their convictions and prosecutors dropped the charges.
"These three men were convicted, as children, because of police and prosecutorial misconduct," Baltimore state attorney Marilyn Mosby said after the men were released.

In a statement, her office said "detectives targeted the three men, all 16-year-old black boys, using coaching and coercion of other teenage witnesses to make their case".
Speaking at a press conference after they were released, Watkins said:
"This should have never happened. Somebody's got to pay for this," he said. "You can't just leave this like this. This fight is not over."

Stewart on the other hand said "When I got the information, I cried, and I didn't know how to stop crying until a friend of mine came to me and hugged me and said, 'Man your journey is coming to an end,' but it is not, my journey is just beginning, because I got to learn how to live right now."
It was learnt the case was reopened earlier this year by the office of Baltimore City State's Attorney Mosby after Chestnut sent a letter to the Conviction Integrity Unit. The Washington Post reported Chestnut included exculpatory evidence he uncovered last year.
During examinations the Baltimore prosecutor's office found errors in the investigation and the new review concluded that a different student, who was 18 at the time of the crime was the shooter.
The new suspect who was shot dead in 2002 was seen fleeing from the scene and dumping a gun as police arrived at Harlem Park Junior High School, but authorities at the time focused their investigation on the trio.
"Everyone involved in this case – school officials, police, prosecutors, jurors, the media, and the community – rushed to judgment and allowed their tunnel vision to obscure obvious problems with the evidence," said Shawn Armbrust, executive director of the Mid-Atlantic Innocence Project, which represents Watkins.

Armbrust added that "this case should be a lesson to everyone that the search for quick answers can lead to tragic results".