FirstBank Hosts SME Clinic, Reiterates its Commitment to Building Capacity of SMEs
By Ugo Aliogo
First Bank of Nigeria Limited has reiterated its commitment to driving growth and building the capacity of Small and Medium-sized Enterprises (SMEs) in the country.
Speaking at the FirstBank SMEConnect Business Clinic, held in Lagos on Thursday, the Group Head, Lagos Island 1, First Bank of Nigeria Limited, Olufunke Smith stated that the business clinic provides an opportunity for SMEs to understand how to develop their business plans, and run their business. It is one of the key initiatives that the bank has put in place to drive development of the SMEs. She further noted that the Bank's SMEs proposition is based on seven pillars that would connect SMEs to- capacity building, market, infrastructure, talent for business development, policy and regulation, finance and resources.
According to her, "Building the capacities of SMEs is an ongoing process. SMEs are the engine of growth of any society. At FirstBank it is our responsibility to bring them on-board through support, knowledge sharing, and advisory in order for them to add value to the society. The SMEs attending the clinics today have gone through a selection process and it is the first of 2020, there will be more clinics to be held in the course of the year.
"SMEs are the bedrock of economic growth of any society. It is when you have functional SMEs that the country can grow. It is noteworthy to mention here that SMEs are great employers of labour. When you have viable SMEs they provide various services and innovations that traditional corporations may not provide. These strongly underscore our commitment – at FirstBank – to strengthening their impact on the economy.
"This clinic is part of giving back to the society, thereby ensuring we continue to develop SMEs. FirstBank has recognised that for it to serve SMEs adequately there is a need to offer more than traditional banking services. We know that connecting SMEs to the right information and business tools can save turnaround time, cost and give them a competitive edge in the sector that they operate. It is on this knowledge that we have created value propositions for SMEs that cover financial and non-financial services."
We expose SMEs to the best deals and they have access to tools that position them at an advantage for growth."
In his remarks, the Managing Partner, Traction, Dolapo Adejuyigbe, said "we have a coaching marketplace that SMEs can come on our platform and even firstbank platform to book vetted coaches that can provide advisory services to them either for one session or a number of sessions. We also consider re-emerging how our business clinics can work and how to bring insights and make it practical. The FirstBank business diagnostic tool enables SMEs identify the needs, especially operational, of their business and the business clinic is designed in such a way we can follow up on the impacts and also track the business after three to six months. The focus of this business clinic is to help them design the strategy for 2020. A core part of that is for them to understand the economic trends, and we have catered for different kinds of businesses and how the economy is going to impact them."
In his remarks, one of the speakers at the event, Gospel Obele, said the clinic provided an opportunity to develop a business and market outlook for SMEs, stating that the goal was to scale economic knowledge into useable insights for SMEs.
Commending FirstBank on the SME Clinic, Obele noted that the event exposed SMEs to lots of opportunities for their business growth like how the Nigerian business environment is going to look like through the year as well as the transition dynamics of the consumer."
He said: "Examining strategy from the outlook that was presented today, it is more of how SMEs rework their internal systems to respond to the changing environment that we have. Nigeria is a high fluid and dynamic economy which means that our own business environment is changing faster than advanced economies"
One of the participants at the clinic, Tayo Oginni, President/CEO, International Energy Market Place Ltd., said attending the seminar provided background knowledge on how to develop a road map for setting up a business in a structured manner.
He asserted that the business clinic taught SMEs the things to be aware of when starting a business, "the facilitator created an atmosphere of things that need to be done. I will strongly recommend that SMEs need this kind of intervention."
Ogini also lauded FirstBank and Traction for organising the clinic, noting that one of the key areas discussed at the clinic was financing where SMEs were taught that cash flow is key in business, therefore they have to watch their cash flow.
Ecobank Nigeria to host Regional Trade Forum 2020
Ecobank Nigeria is set to host its 2020 Regional Trade Forum in Lagos.
It gathered that the forum taking place in March, will be a two-day event, providing the opportunity for exporters and importers within the African region to exhibit their products in a marketplace scenario with panel discussions by highly experienced and diversified stakeholders and leaders of thought in the industry.
Ecobank Nigeria is a member of the pan African banking group with unparalleled Africa wide Network Advantage across 33 countries catering for businesses and providing world class trade services to its customers. The Ecobank Group network has over 30 years been enhancing the financial integration of the continent. The Group provides solutions to facilitate trade in the various trade corridors and groupings across Africa
Announcing the Trade Forum in Lagos, Sunday Abah, Head Trade Finance of Ecobank Nigeria said Ecobank is using the forum to unveil its comprehensive trade solutions to its existing and prospective customers alike by sharing the various payment methods available to facilitate cross border trade throughout its network across Africa. According to him, Ecobank recognizes the role of exporters and importers in driving economies through trade.
"By creating a networking forum for importers and exporters via the trade exhibition slated for the first day of the forum, the Bank extends support to stakeholders in export and import businesses.
"Ecobank's trade products and solutions are designed around two broad areas: Trade finance which enables customers benefit from adequate and well mitigated credit facilitation in the area of Import finance, export finance, bill discounting, trade loans, distributor finance, structured trade and commodity finance amongst others; also we do Trade Services, which gives our customers the advantage of speedy turnaround time and error free processing of Import Letters of Credit, Import collections, Customs bonds, Export collections and regional trade services amongst others," he noted.
Ecobank's unique intra-Africa trade solutions enable settlements of trade transactions and mitigation of payment risk; provide regional solutions and enable exporters obtain payment guarantees without the need for a letter of credit and its related costs to the importer. Ecobank works closely with clients in reviewing key factors regarding transactions processing, settlements, financing, and risk mitigation as well as credit enhancement. The bank boasts of a unique and large Pan-African platform that positions it to support trade at all levels. Its technology platform is designed to help unlock the opportunities of the continent through standardization across 33 countries, while fueling regional integration, trade and investment across borders.
The Ecobank Africa Trade Forum is expected to attract hundreds of guests and participants. Leaders from across Ecobank Group will also be attending to share their market specific trade knowledge and information.
Richard Quest Visit Management Of Fidelity Bank Plc
CNN Anchor, Richard Quest, paid a courtesy visit on the Management of Fidelity Bank Plc on Monday, February 12. During the visit, he engaged the team on several issues including SME lending and leveraging digital channels to deepen financial inclusion in Nigeria.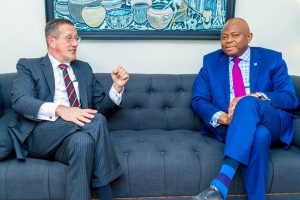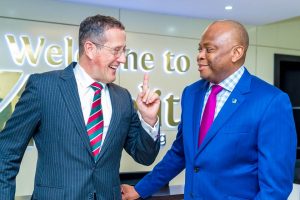 Fidelity Bank Trains 200 Sokoto Varsity Students in Skill Acquisition
Fidelity Bank Plc and Gazelle Academy have trained 200 undergraduates of Sokoto State University (SSU) in the acquisition of skills in fashion design, handsets repair, cocktail and make up.
Speaking at an event in Sokoto Monday, the Managing Director of Fidelity Bank, Nnamdi Nwankwo, represented by the bank's Head of Recruitment, Chris Nnawe, said the programme under Fidelity Youth Empowerment Academy Stream 7 (YEa7) is part of the bank's cooperate social responsibility.
"We in Fidelity bank have targeted programmes on education, environment and youth empowerment. This one you are witnessing today is part of fulfilling our promises to the society," he said.
Nwankwo said that the programme started in 2016 at the University of Nigeria, Nsukka, stressing that since then the bank and its partner, Gazelle Academy, have visited more than five higher institutions in the country, as this one is stream 7 of the programme.
According to him, youths were trained to acquire some skills to enable them to be self reliant and also make them to be employers of labour even while in school.
He disclosed that at the end of the training, start packs will be given to each participant to aid him/her to start something of their own, adding that after the undergraduates' education, they can seek for soft loans from the Small, Medium Enterprise (SMEs) Department of the bank.
On her part, the founder of Gazelle Academy, Mrs Muna Unuozo, said the programme was aimed at equipping the students with skills that they could use while still in school or after graduation.
She said that with the knowledge of the skill acquired, they could fend for themselves even while in school.
Speaking at the event, the Governor of Sokoto State Aminu Waziri Tambuwal thanked Fidelity Bank and Gazelle Academy for chosing the school for the programme.
Tambuwal said that as a responsible government, his administration have prioritized the welfare of the youths in the state.
He enjoined the participants to be focused and concentrate in order to benefit from the training.
Earlier, the Vice-chancellor of the university, Prof. Sani Dangogo, thanked Fidelity Bank and Gazelle Academy for the benevolent gesture, saying the training will go a long way in alleviating the financial burden of the students.