EXCLUSIVE: Former Lagos SSG, Tunji Bello's Desperate Moves To Get Commissionership Position In Lagos
Mr. Tunji Bello started off as a lawyer and a journalist, but that would later give way to his involvement in governance as he got close to the godfather of South West politics, whose influence has also extended to the whole Nigeria, Asiwaju Bola Ahmed Tinubu.
As at today, Bola Tinubu is regarded as the National Leader of the ruling All Progressives Congress (APC) and he wields much influence in many states of the federation and at the national level
Bello found his way to the top echelon of the society based on his closeness to Asiwaju Tinubu as he was appointed to head a government agency before being promoted to the position of a commissioner.
He was part of those that set up Vintage Press Limited, publishers of The Nation newspaper.
Tunji was later appointed as the Managing Director of Lagos State Signage and Advertisement Agency, (LASSA), and he later served as Commissioner for Environment in the Babatunde Raji Fashola administration.
He was appointed Secretary to State Government by Governor Akinwunmi Ambode in 2015, a position he held till the end of the adminstration.
There are insinuations that Bello is desperate to be appointed Commissioner for the Environment in the government of the incumbent Governor Babajide Olusola Sanwoolu as he allegedly considered the ministry juicy and attractive.
"We don't know why he's so desperate to return to this particular ministry, what is it that he left unfinished in the ministry that he's going back to take?
Sources stated that Bello's greatest political goal is to become the Executive Governor of Lagos State.
He was reportedly pained that someone like Ambode was the choice of the Asiwaju Bola Ahmed Tinubu for the exalted position.
From inception of the Ambode administration we gathered that Tunji Bello bombarded Tinubu's residence with alleged tales of "official recklessness and abuse of office" on the part of Governor Ambode, and that he once threatened to resign.
He reportedly told Tinubu that Ambode gave out contracts meant for his office to the commissioners.
Many people believed that Tunji Bello is overambitious and that his latest write up against former governor Akinwunmi Ambode barely 24 hours after the end of his tenure was done in bad taste.
Some observers raised concern over what they termed inordinate ambition of Tunji Bello, who has been a commissioner and Secretary to the State Government (SSG) and that is now lobbying to be appointed a commissioner.
They wondered why Bello would write against ex-governor Akinwunmi Ambode with whom he worked till Wednesday May 28, 2019 without any open rancour or disagreement.
Leaders of the APC were then urged to "give others a chance rather than allowing a Tunji Bello to continue to stay in the corridors of power when he had nothing to offer."
There are insinuations that Mr. Tunji Bello performed below expectation as commissioner for the Environment unlike Dr. Muiz Banire, who they said turned the place around in his days in the ministry from 2007 to 2011 under former governor Babatunde Raji Fashola.
It was also alleged that "Tunji Bello performed poorly as SSG."
In a statement he entitled 'Time to say good bye to colleagues on this platform,' Bello wrote:
"The exit bell has sounded and it is time to say good bye to colleagues. We must seriously thank our Governor, Mr Akinwunmi Ambode for bringing all of us together in the last four years.
"We must praise him for the successful strides in bringing Lagos to the present level. All the accomplishments and success stories of this administration should go to him.
"We should be happy too because we are directly or indirectly part of that success stories being his lieutenants. We should be happy for the opportunity provided and experience gained. It is not what you can buy on the shelf even if you have all the money. We should also be happy and thankful to God for seeing us to the end.
"Yet as we depart on our individual sojourn, we must never forget to learn from our glaring weaknesses and failures. Since we are all part of the success stories we must also share in the weaknesses and failures.
"Our main drawback is our government's inability to apply enough emotional intelligence in the administration of the state. Emotional intelligence includes interpersonal skills, interpersonal relationship, humility, respect for the well established mores of governance, disregard for the accomplishments of others. The belief that our way is the best without considering other options in a democratic setting, absence of wider consultations, distance from the governed, lack of effective communication skill or amateurish display of government acts and political immaturity, deliberate and open alienation of other."
Tunji Bello reportedly supervised the media unit of the Babajide Olushola Sanwoolu Campaign Organization, (BOSCO).
He allegedly determined which project was awarded and which one did not.
It was further revealed that Tunji used his contacts from his days as Commissioner for Environment to sabotage Visionscape Sanitation Services, instigating these firms not to cooperate with Visionscape.
Bello was said to have allotted 28 waste evacuation detail contracts in Lagos; but he deployed only one truck, to cover these details, yet collects 28 truck payments from Lagos State Waste Management Agency LAWMA.
There are reports that Bello had serious altercations with Babatunde Raji Fashola who accused him pointedly to stop scheming, and that he was among the cabal that occasioned the media blackout of Fashola's post tenure book launch.
A source however, said that a former colleague of Mr. Tunji Bello in his reaction to Bello's "vituperations" urged the people to bear with him.
He reportedly stated in his reaction that Mr. Tunji Bello did not mean it the way people took it and that the social media should be blamed for the whole drama.
People however, disagreed with this, and they stated that "why did Tunji Bello write the message in the first instance if it was not meant for the public. Was it meant for Ambode, Tinubu or President Muhammadu Buhari," adding that "posterity would judge the likes of Tunji Bello, who destroy others to build themselves."
Lagos Socialite, Sir K Lamina, Sent To Prisons For Alleged Robbery, Murder
Lagos socialite and suspected land grabbing kingpin, Chief Kamorudeen Olaseni Lamina, popularly called 'Sir K Oluwo', has been ordered to be remanded in prison custody by a Chief Magistrate Court in Sagamu, Ogun State.
P.M.EXPRESS learnt that Lamina was arraigned over allegations of terrorising land owners in some communities around Ikorodu and Shagamu axis of South-western part of Nigeria.
The accused is facing a four-count charge of attempted murder, conspiracy to murder, murder, unlawful possession of firearms and armed robbery in suit number MSH/289c/2019, and will be remanded in prison pending further notice pending the Attorney-General's legal advice.
The charge reads: "That you, Otunba Kamorudeen Lawal (m) and others still at large with those in charge number MSH/82C/2011 on or before the 9th of March, 2011 at Ologbon Odukosi village, in the Sagamu Magisterial District, did conspire together to commit felony to wit; armed robbery and thereby committed an offence contrary to and punishable under section 6(b) of the robbery and firearms (special provision) acts laws of Federation of Nigeria, 2004."
The second charge reads, "That you, Otunba Kamorudeen Lamina and others still at large, with those in charge number MSH/82C/2011 on the same day, time and place in the aforementioned magisterial district, did rob one Saka Gbemisola, Kareem Bello and others of the sum of One Hundred and Eighty Thousands Naira (N180,000.00), one Astor Electronic Teoolita with its tripod valued Thirty Thousand Naira (N30,000.00, gsm handset, cloths, shoes, wrist watches and identity cards value yet to be estimated while armed with guns, axes, cutlasses, knives and thereby committed an offence punishable under section 1(2)(a) of the robbery and firearms (special provision) Act Laws of Federation of Nigeria, 2004."
The third charge reads, "That you, Otunba Kamorudeen Lamina and others still at large, with those in charge number MSH/82C/2011 on the same date, time and place aforementioned magisterial district did unlawfully conspire to commit felony to wit; murder and thereby committed an offence contrary to and punishable under section 324 of the criminal code laws of Ogun State of Nigeria, 2006."
The fourth charge stated that, "That you, Otunba Kamorudeen Lamina and others still at large, with those in charge number MSH/82C/2011 on the same date,time and place in the aforementioned magisterial district, did unlawfully kill Akeem Adegbaru (m), Fatai Adeleye (m) and Adebisi Adelakun (m) by matcheting them with cutlasses and thereby committed an offence contrary to section 316 and punishable under section 319 of the criminal code of laws of Ogun State of Nigeria, 2006."
The defence counsel, Bayo Omotuburuwa, had earlier prayed the court not to grant the ex-parte application which was placed before the court by the Prosecuting Counsel, Adeola Adeleye.
Due to this, the case was stepped down around 11.00 a.m., after which the court re-conveyed at 01.20 p.m.
The defence counsel also prayed the court to grant his client bail, quoting Section 307 of the Administration of Criminal Justice (ACJ) to support his argument, but the court refused the prayer.
The prosecuting counsel, however, argued that nothing is stopping the ex-parte application from being heard in the court, adding that an application that is not challenged must be heard and the ex-parte application must be heard.
He added, "The court has the final decision to either grant the remand order or not, and the respondent has no order challenging the ex-parte application."
The chief magistrate, B.J Ojikutu, in his ruling, denied the bail application by the accused counsel and ordered that the accused be remanded in prison, pending the Attorney-General's legal advice.
He adjourned further hearing to September 26.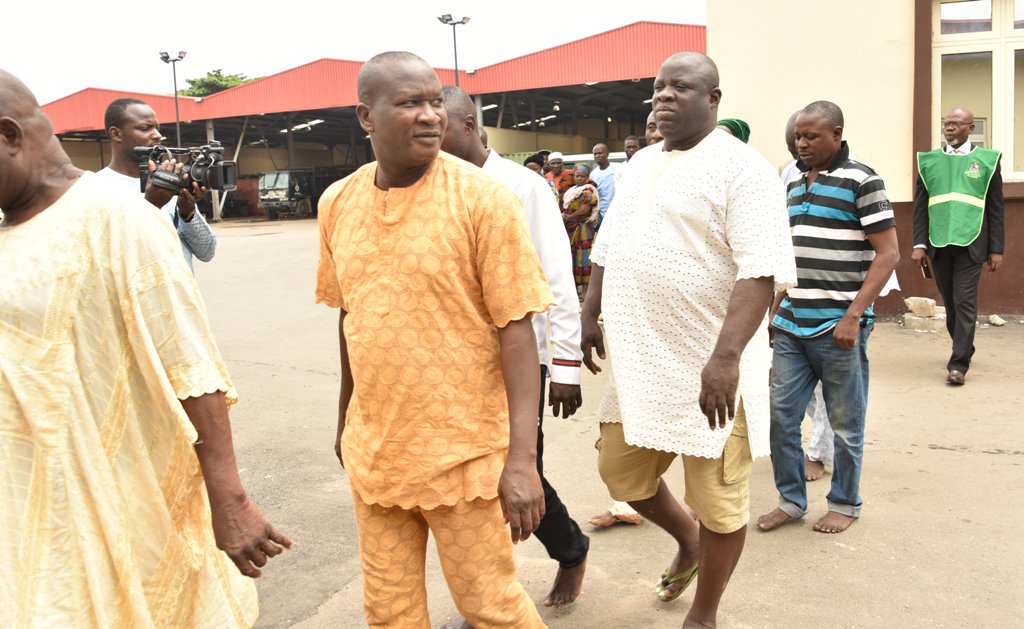 It would be recalled that in June 2017, Lamina with others were arrested and arraigned at the Lagos State Special Offences Court for violently grabbed lands belonging to some residents of Ikorodu and adjourning communities.
After nearly a month in detention, he was granted bail and later fled Lagos State.
It was learnt that Sir K then shifted his base to Ogun State with minor or no law against land grabbing until about a year ago.
His alleged atrocities of terrorising innocent people of some communities got to the Ogun State task force on land grabbing via scores of petitions and SOS messages by some victims.
He was later arrested and now arraigned.
Lagos lawmakers reject Sanwo-Olu's 3 cabinet nominees •Full list of commissioners
The full inauguration of commissioners and Special Advisers of Lagos State Governor, Babajide Sanwo-Olu's cabinet suffered set back, Monday, when the State Assembly confirmed 35 out of the 38 nominees and rejected three others sent to it by the governor for confirmation.
The fate of three others namely: Obafemi George, Prince Olarewanju Sanusi and Adekemi Bembe were still hanging in the balance as the Assembly, presided over by the Speaker, Mudashiru Obasa, which failed to give any reason for the rejection advised Governor Sanwo-Olu to re-nominate the persons if he is so wished.
Obasa, later announced this during the plenary, after the 38 nominees had earlier appeared at an exhaustive session for final ratification which lasted for several hours.
The list of nominees, include; Past Secretary to the State Government, SSG, Tunji Bello, Editor, Nation's Newspaper, Gbenga Omotoso, Mr. Rabiu Olowo Onaolapo, Mrs. Folashade Adefisayo, Prof. Akin Abayomi, Dr. Idris Salako, immediate Mrs. Toke Benson-Awoyinka, Mrs. Bolaji Dada, Mr. Lere Odusote, Dr. Frederic Oladeinde, Mr. Gbolahan Lawal, Ms. Adekemi Ajayi, Mr. Femi George, Dr. Wale Ahmed, Mr. Moyo Onigbanjo (SAN), Mr. Hakeem Fahm, Mrs. Ajibola Ponnle, Engr. Aramide Adeyoye, Mr. Segun Dawodu, Mrs. Uzamat Akinbile-Yusuf, Sam Egube, Ms Ruth Bisola Olusanya, Princess Aderemi Adebowale, Mr. Tunbosun Alake, and Mr. Afolabi Ayantayo.
Other are: Publicity Secretary of All Progressives Congress, APC, Joe Igbokwe, Oladele Ajayi, Oluwatoyin Fayinka, former Chairman, Agboyi-Ketu Local Council Development Area, LCDA, Mrs. Yetunde Arobieke, Olarenwaju Sanusi, Bonu Solomon Saanu, Arc. Kabiru Ahmed, Mrs. Lola Akande, Prince Anofiu Elegushi, Daughter of late Governor of Ondo State, Segun Agagu, Mrs. Solape Hammond, former Chairman, Mosan-Okunola Local Council Development Area, Morufu Akinderu Fatai, MAF, Mrs. Shulamite Olufunke Adebolu and Tokunbo Wahab.
It was, however, gathered that the nominees might have been dropped probably due to unsatisfactory credentials presented or lack of knowledge of originating constituency.
Lawmaker comments
When contacted to comment on the development, a former member of the House of Representatives, Epe, Constituency, also a onetime Chief Press Secretary to Speaker of the state House of Assembly, under Adeyemi Ikuforiji, Lanre Odubote said, "The house has the constitutional rights to approve or reject any nominee presented to it by the Governor. They have acted within their powers to do so. However, the rejection might not necessary mean the legislative arm is up in arm with the executive. I think it's an internal issue which will be dealt with dispassionately.
"Am sure the House of Assembly will communicate effectively with the Governor on the issue and work out modality to resolve the matter. And good enough, the Governor can represent or re-nominate them for approval.
"We are in democracy and this is democracy in action."
Recall that a 16 man Ad-hoc Screening Committee, headed by the Chief Whip, Rotimi Abiru, had earlier submitted a clean report on the screened nominees to the House for final confirmation.
The final approval of the nominees is subject to decision of the 40 members of the House and not the Ad-hoc committee.
The report of the adhoc committee only serve as a guide to the final ratification by the whole members of the house.
Abiru, after the conclusion of the screening exercise last Friday, told newsmen that the committee was satisfied with the competence of the nominees, saying that the state would be better with their wealth of experience.
Abiru stressed: "This has been a very tough exercise; we have now taken the entire 38 nominees of the governor (25 in the first batch and 13 in the second batch).
"From what we have seen, we have knowledgeable and intelligent people that actually understand how government will work to succeed. It is a mix of technocrats, politicians and people who believe that it does not matter the divide they belong to, that what is mostly important is the urge and zeal to deliver service."
"They have seen this as a call to service and have actually pledged before us that they will put all that God has endowed them with to ensure that good governance is witnessed with the present administration and that the people of Lagos will enjoy the dividends of democracy."
Meanwhile, Sanwo-Olu, on Monday, inaugurated nine newly appointed Permanent Secretaries into key ministries and departments, with a charge the to ensure residents get the best of their services.
Speaking at the swearing-in event held at the State House, Alausa, Sanwo-Olu said the appointees were selected for the position for their "exceptional pedigrees", which, he said, indicated that the state was in for an enhanced service delivery in its public service.
The Governor said the choice of the new appointees was based purely on merit, pointing out that he had no personal relationship with none of the appointees which could have influenced their appointments.
This, he said, was a departure from established practice in making appointments of such nature, reiterating his administration's belief in elevating merit and distinction above personal consideration.
He said: "I charge our new Permanent Secretaries to see your elevation as a call for more service and to give your best to the citizens of Lagos. I have no doubt that you all will give in your best at all times. I am convinced that Lagosians are in for a renewed and enhanced public service that will take good governance to the doorsteps of ordinary people.
"These appointments are a demonstration of what is to come in the coming days. With the full cabinet coming tomorrow (Tuesday), the people of Lagos will be better off with this choice and all our promises condensed in Project T.H.E.M.E.S will begin to work fully and make life easy for Lagosians. At the end of our tenure, we want to be seen to have truly improved the quality of life for greater number of residents."
Sanwo-Olu said the appointees demonstrated capability, capacity and competence, hailing the state's civil service for producing quality personnel with unrivalled knowledge and capability in service delivery.
The Governor advised directors and workers in lower cadres in the civil service to be diligent in the discharge of their duty, noting that they did not need to know highly placed individuals to be rewarded with promotions.
Head of Service, Mr. Hakeem Muri-Okunola, while presenting the appointees to the Governor, said the new PSs possessed "unblemished records" in their years of service to the state.
"I encourage all public servants to continue to work hard and be more innovative in the discharge of your duties and responsibilities. Delivery of excellent results would only speak for the diligent ones when the time comes," he said.
Speaking on behalf of the appointees after taking the oath, PS in the Ministry of Transportation, Wale Musa, thanked the governor for finding them worthy of the opportunity, promising not to betray the trust reposed in them.
Other Permanent Secretaries sworn in are Mrs. Kikelomo Sanyaolu, Civil Service Commission; Mr. Nurudeen Shodeinde, Office of Drainage Services; Mrs. Khadijat Shitta-Bay, Ministry of Justice; Mrs. Olorunkemi Durosinmi-Etti, Cabinet Office; Mrs. Oluyemi Kalesanwo, Ministry of Women Affairs and Poverty Alleviation; Mr. Moruf Agoro, Ministry of Waterfront and Rural Development; Mrs. Belinda Odeneye, Ministry of Environment, and Mr. Babatunde Olaide-Mesewaku, Ministry of Tourism. (Vanguard)
Source News Express
Development In Focus As Sanwo-Olu Inaugurates Cabinet By Gboyega Akosile
In fulfilling his electioneering promise that his cabinet would be constituted within 100 days of his government, Lagos State Governor Babajide Sanwo-Olu, recently released the first batch of 25 nominees to occupy cabinet-ranked positions in the state. The list shows an administration that is ready to serve, given the pedigrees of nominees, most of whom are tested individuals with proven records of accomplishment of performance in their various fields of endeavour.
Three weeks after, a new list consisting 13 names of another set of tested and trusted individuals was released making the cabinet positions 38 in all. Expectedly, the two lists generated a lot of interest in the political circle as well as the public domain. Every Lagosian at home and in the diaspora is interested in who occupies what position. You cannot query their interest. First, the Babajide Sanwo-Olu's government came into power, with an emphasis during electioneering that inclusive governance would be the core of its administration. In addition, Lagosians see the enormous challenges that have confronted the State in the recent years and they know that only a focused, dedicated and forward-looking cabinet can help to deliver Governor Sanwo-Olu's campaign promises.
Lagos has grown in leaps and bounds, with its population hitting almost 23 million people and still counting. This naturally comes with its challenges; increase in tons of waste generated, rise in the number of patients at various government hospitals and primary health centres, more pressure on the existing infrastructure-roads, schools and housing among numerous social amenities being provided by government. Lagos, therefore, cannot be administered in 2019 using a 1979 template.
The state has undoubtedly benefitted from its population growth-more revenue generation; physical development is recorded in different sectors making it a state on the move. At the last count, Lagos is said to have hit close to N30 billion mark every month in internally generated revenue (IGR), making it the most economically viable state in Nigeria and fifth largest economy in Africa. However, the State government has argued that this feat is still a far cry from what is required to run a megacity such as Lagos. For example, the budgetary allocation of the police department in New York City is $5.6 billion, when compared to the budget of the entire Lagos state, which stands at $2.4 billion; one can safely conclude that there is more to be done by government to get the state running.
Being the nation's economic nerve-centre, Lagos is a city on the move but with enormous challenges. Apart from poor state of arterial roads that complicate free flow of traffic, commuters spend productive hours in chaotic gridlocks that are caused by failed sections on roads and disorganised traffic management. Many observers have opined that planning the best campaign strategies to win the governorship election was not much of a challenge before Governor Sanwo-Olu, as his party, APC commanded large following and significant popularity in Lagos to ensure his victory. What they say will be the most testing hurdle waiting to be surmounted by him was the strategy to deploy in solving the long-standing and emerging challenges facing the state.
When Sanwo-Olu emerged as APC candidate, Lagos had literally become a dumpsite as heaps of municipal waste littered the streets. The state agency set up for waste disposal had been disengaged in a curious and controversial circumstance, leaving residents to resort to indiscriminate dumping of refuse, which became a daily eyesore, even to the government of the day. The aesthetics of the environment was affected. All of these brought down the pride of Lagos, despite its growing profile as a hub for commerce, technology and innovation.
Sanwo-Olu's campaign was premised on the need to address these challenges, with the aim of proffering short and long-term solutions to them. Project T.H.E.M.E.S that became the thrust of his campaign slogan was formulated as an operational framework to solve these identified challenges and sustain the profile of Lagos as centre of excellence.
Upon assumption of office as the 15th Governor of Lagos on May 29, 2019, Sanwo-Olu channelled his energy towards a process of scouting for visionary individuals from various areas of human endeavour that will help him midwife his vision and deliver on his campaign promises. He said, during the electioneering that ''as Lagosians, we can't be like people who cannot solve their problems. Therefore, we must find solutions to our problems because they are created by us''.
As one who believes in harnessing the capabilities of homegrown professionals, Sanwo-Olu assured Lagosians that his Commissioners and cabinet-ranked Special Advisers would be drawn from local pool of resources and will cut across acceptable demographics. Besides, he promised his cabinet would be constituted within 100 days to set the ball of governance rolling.
In keeping the promise made to Lagosians, Sanwo-Olu announced the names of members of his cabinet exactly 47 days after his swearing-in. This is a rare feat for a governor serving his first term. The Governor said he understood the challenges confronting the state, noting that the selection process was a painstaking and laborious exercise, which aimed at introducing fresh ideas to governance. He said the team of professionals and politicians would be serving Lagosians in line with his administration's vision of delivering a smart city-state that will rank among the top most liveable cities in the world.
His words: "We took our time to pick the best hands for the tough job Lagosians have elected us to do. The nominees for the twenty five (now thirty eight) Commissioner and Special Adviser positions include women and men who have made their mark and at the zenith of their professional callings." Tough job? Yes, the tasks ahead are expected to be rigorous as Gov. Sanwo-Olu posited, given the challenges the state is confronted with and the expectations of the people based on the confidence reposed in the administration.
Infusion of technocracy and political know-how
Being the centre of innovation, Lagos has raised the bar of excellence with injection of fresh ideas and energy in governance. This tradition has been sustained in the last 20 years, and the young administration of Sanwo-Olu appears to be toeing the path, if the profiles of his nominees are anything to go by.
Of the 38 cabinet members cleared for inauguration by the State House of Assembly are active politicians who are equally professionals in various fields. The infusion of politics and professionalism is perhaps the unique selling point of the Sanwo-Olu Cabinet.
A careful analysis of the nominees showed there is clear departure from the tradition of putting forward only politicians or only technocrats to fill up the state's Executive Council. A private sector professional himself and having traversed the nook and cranny of the political space in Lagos, Sanwo-Olu understood the arduous task before his government, which possibly prompted him to go for politicians, professionals in politics and technocrats to drive the key areas of the public sector for greater impact.
Having worked closely with the Governor, one can safely say that he is inclined to work with technocrats, because he is a man that's given to details-someone you can describe as ''prim and proper'' but one equally knows that he values the roles of experienced politicians, who are fully integrated in the new cabinet arrangement for political balancing.
The Governor is a politician himself and he quite understands the roles of politicians in governance and development process. Despite his inclination to work with professionals, he will not be leaving out politicians, especially those who have garnered ample experience in previous administrations, to join the team of key private sector players he has nominated to his cabinet.
It therefore came as no surprise that the name of Mr. Tunji Bello, the immediate past Secretary to the State Government, who had served three previous administrations, featured in Sanwo-Olu's list of cabinet members. Aside being an influential figure in Lagos politics, Bello, a trained lawyer cum journalist, possesses vast skill on environmental issues and policies to help the administration have clear direction in this area.
Lagos is confronting fierce challenges of climate change, flooding and municipal waste disposal among other environmental problems. With him in the cabinet, Bello's wealth of experience in climate issues and the environment would come as a great benefit to the Sanwo-Olu administration.
Gbolahan Lawal is another experienced administrator and politician that will be in the Executive Council. A seasoned development expert and social entrepreneur from the security background, Lawal has deep understanding of political economy for integrated development especially in low and medium-income economies. He has proven his mettle in previous administrations as Commissioner for Housing and in the Ministry of Agriculture and Cooperatives.
Same can be said of Wale Ahmed, a medical doctor turned politician. Ahmed is well grounded in the politics of Lagos State having traversed the different political tendencies in the state. He is no doubt a good pick by Mr. Sanwo-Olu to help create the political balancing that is required in today's democratic governance. There are few other experienced politicians in the list of the new cabinet members.
Fair representation of women
Since the beginning of the Fourth Republic, Lagos has been setting the pace for gender balance and women involvement in political process. The state became the first that elevated the status of women in the realms of leadership and politics, producing the first woman Deputy Governor.
The state had sustained the tradition of reserving one of the two topmost leadership positions for women. However, the political horse-trading that trailed the emergence of Dr. Obafemi Hamzat as Sanwo-Olu's running mate in the build up to the general elections raised concern among womenfolk, giving rise to insinuation that Sanwo-Olu may be nursing an agenda to upset the progress made in the State in the area of women representation in governance.
In his response, Sanwo-Olu allayed the fear of relegation of women, explaining that the choice of his running mate was to display the dynamism of Lagos politics and present a formidable team for the tough job of governing a State with big economy as Lagos. He promised to complement the work of his administration with an improved involvement of women in decision-making positions. True to his words, the Governor, after being sworn in, surprised the womenfolk with his first appointment, picking Mrs. Folashade Jaji, as the Secretary to the State Government.
This was followed by nominations of thirteen women in the cabinet list, signifying the Governor's conviction of getting women involved in leadership and decision-making. The number showed women make up 32 per cent of cabinet members in the State. This is 3% less of the 35% affirmative action for women in politics and governance. Again, Lagos remains the first and till date the only State that has moved closer to the number advocated.
Sanwo-Olu did not just pick any woman out of gender consideration, the Governor gunned for greater service delivery with the selection of seasoned and highly resourceful women, among who are engineers, lawyers, experienced politicians and development-driven individuals such as first-rate engineering project manager, Mrs Aramide Monsurat Adeyoye.
Mrs. Adeyoye, a University of Lagos (UNILAG)-trained Civil Engineer, cut her professional teeth at Julius Berger Nigeria Plc in 1988 and rose through the ranks to become the multinational engineering firm's Project Coordinator in Nigeria's West region.
The list also parades Mrs Adetoke Benson-Awoyinka, a public-spirited legal practitioner with 30 years post call experience in Nigeria and United States. Benson-Adeyinka was among the highly skilled team of the Governor's transition committee.
Ms Ajibola Ponnle, another nominee, is an accomplished consultant, accountant and entrepreneur, with experience in transformational and result-oriented leadership in start-ups, volunteer/member-led organisations and multinational firms. Mrs. Lola Akande and Mrs Yetunde Arobieke are seasoned politicians who will bring their individual wealth of experience to the new drive to deliver a greater Lagos.
Other women in the list, with enviable track records in public and private sector, include Mrs. Uzamat Akinbile-Yusuf, Ms Ruth Bisola Olusanya, Princess Aderemi Adebowale, Ms. Adekemi Ajayi, Mrs. Bolaji Dada and Mrs. Folashade Adefisayo, Mrs Shulamite Olufunke Adebolu and Mrs. Sholape Hammond.
Key roles for the millennial
Having joined public service as Special Adviser on Economic and Investment at his youthful age, Sanwo-Olu seemed inclined towards engaging the youth with the aim of harnessing their energy to deliver his programmes and vision.
This may have influenced the decision of the Governor to nominate four young people under the age of 37 years for cabinet-ranked positions in his government. By the time the cabinet is constituted, these four millennials will be among those that would be driving the Governor's policies in key public sector, creating a generational shift in governance.
Olatunbosun Alake, a 35-year-old Product Development and Data Management Executive and three other young administrators will be in the cabinet to infuse youthful vigour into governance by bringing to bear his cognate experience in local and international telecommunications and innovative solutions.
Ethnic diversity
Lagos continues to blaze the trail in ethno-religious diversity. The State in 1999 under former Governor Asiwaju Bola Tinubu appointed non-Yoruba professionals into the Executive Council. This great feat has been sustained and almost becoming a norm. Govenor Sanwo-Olu, during the electioneering, unequivocally promised to reflect ethnic representation in his cabinet. In keeping to his word, erstwhile spokesperson for the APC in Lagos State, Mr. Joe Igbokwe and a strong grassroots politician Architect Kabiru Ahmed made it into the cabinet of Lagos State.
Following their legislative ratification by the Lagos State House of Assembly, the 38 cabinet members will be sworn in on Tuesday. With this, residents of the state will begin to witness dynamic governance being driven by fresh, energetic and passionate team of professionals drafted to the Executive Council by equally adroit game changers – Gov. Babajide Sanwo-Olu and his deputy, Dr. Obafemi Hamzat.
Gboyega Akosile is Deputy Chief Press Secretary to Lagos State Governor, Babajide Sanwo-Olu